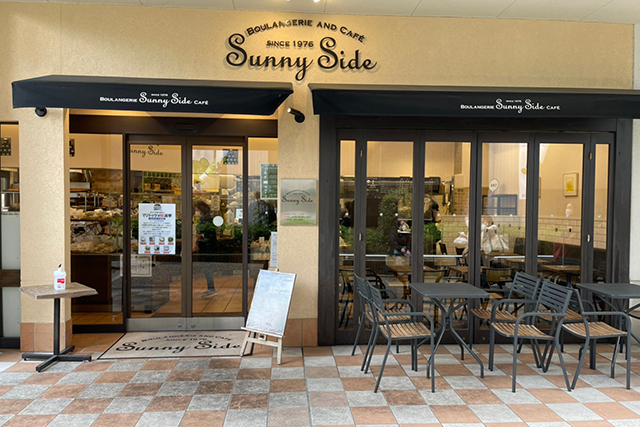 Boulangerie & Cafe Sunny Side opened in 1976, and has continued to be continued to "freshly baked, freshly fried and freshly made" since the beginning. No frozen dough is used, and the bread is made in small batches from early in the morning, making it popular for the very fresh bread. There are 7 locations in Osaka and Hyogo that offer a space to eat, making it ingrained in the local scene.
The main store is located in a shopping center directly connected to the Minami-senri station on the Hankyu Senri line. It is popular with businesspersons who enjoy breakfast or lunch on the terrace, and shoppers who want to enjoy a break, making the store busy from first thing in the morning.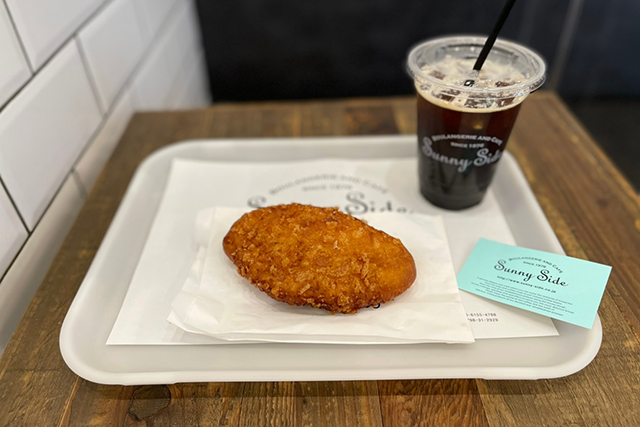 About 120 different breads line the shelves daily, from sandwiches to breads that can be eaten as a meal to sweet breads. The choice is almost overwhelming. The most popular is the "rich beef curry bread". Only a few are fried at a time so that the shelves are always replenished with freshly fried breads. On some days, they can fry up to 50 times in one day. The outside is chewy, a perfect match to the curry filling with large chunks of beef that has stewed for 2 hours. The spiciness is just right to be enjoyed by young and old. Of course, it's best eaten fresh, but it has a great texture even at room temperature, so many buy more than one to take home with them. Some stores sell up to 1500 during the week and 2600 on the weekends. It was awarded a gold medal at the Curry Bread Grand Prix 2020, western Japan fried curry bread division.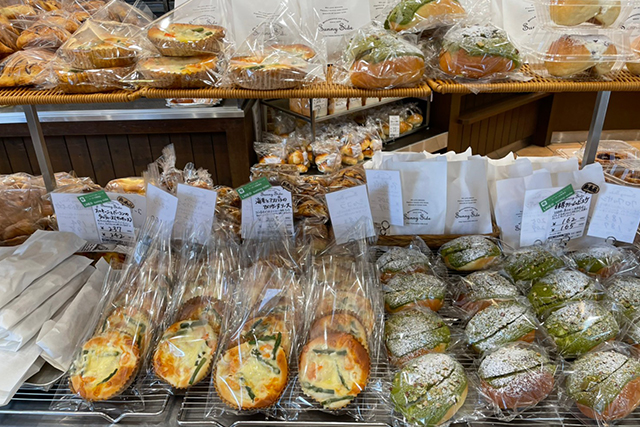 One of the other reasons the store is so popular is that every bread is quite voluminous filled with delicious fillings, yet are quite affordable. There is a wide range to choose from – "kaku pan" made with quality brown sugar and salt, extra special bread using plenty of butter and fresh cream, bread using brown rice, and French style baguette made from dough that is allowed to rise in the refrigerator for 24 hours.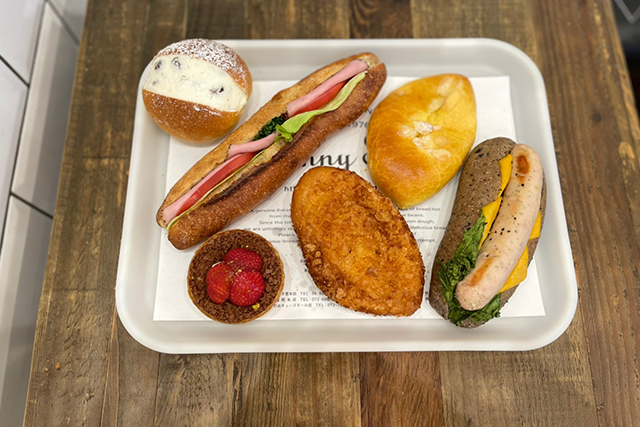 The filling used for the pastries and sandwiches are also made on site. There is a great variety of "cascroutes" which are baguettes filled with ham, vegetables and/or cheese. Continuously developing new products, the shop held a campaign where each of the 7 locations developed their own special flavor of Italian "Maritozzo". The rum raisin flavor at the main store placed first, with the most number sold, and is now available at all locations.
ACCESS
Boulangerie & Cafe Sunny Side

Suita Minami-senri main store Tonarie Minami-senri 1F 1-1-30 Tsukumodai, Suita-shi, Osaka 565-0862
TEL 06-6831-8822