Mr. Hirofumi Taruta, who attended a pottery school in Seto City, Aichi Prefecture, one of the six oldest kilns in Japan, and went on to become a potter, won the excellence award at the 1st Japanese Culture Grand Prix held in 2021, and is known as an up-and-coming artist. We visited the studio where Mr. Taruta works to learn how he evolved a technique that has its roots in Ming-era China.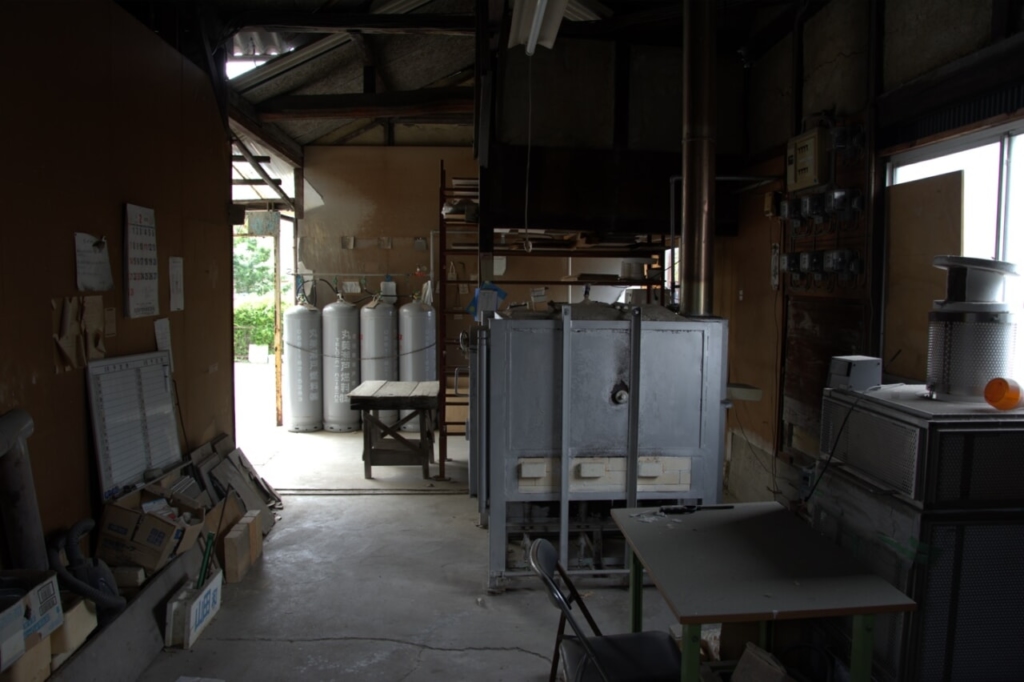 Seto ware, one of the six oldest kilns in Japan, is located in Seto City, Aichi Prefecture, and is said to have originated in the Kamakura period (1185-1333), when Shirozaemon Kagemasa Kato opened his own kiln. Seto ware has developed due in part to the availability of high-quality clay, the raw material for pottery, and has been a driving force in pottery production throughout its long history, to the extent that the word "setomono" was coined to refer to ceramics in general.
The Meitetsu Seto Line, which connects Sakae, the center of Nagoya, and the center of Seto City, was built in 1905 to transport large quantities of pottery to Nagoya. However, after the line opened, it began to transport passengers due to cost considerations, and it has become a major transportation hub for local residents and tourists. From such history, we can understand the development of Seto's pottery industry at that time.
Although the number of pottery factories and the number of people working in the pottery industry have decreased significantly since its heyday in 1978, Seto City continues to support the pottery industry with kilns, glazes, bases, and molds, all of which are being developed and refined in their respective fields of expertise. The city is also home to the Seto Technical High School, where pottery is taught.
Mr. Taruta also studied pottery making at Seto Technical High School (then Seto Ceramic High School).
Go to a Ceramics School
Mr. Taruta's decision to enter Seto Ceramic High School was, so to speak, by process of elimination. I didn't like studying, and I thought it looked interesting," he recalls. He had no intention of becoming a potter when he was a high school student, but when he saw businessmen in suits on the train to school looking very tired in the morning, he felt that this was not the type of person he should be aiming for.
After graduating from high school, Mr. Taruta went on to study ceramics at the same school.
While studying there, he heard that Masanori Hatano, a potter active in Seto City, was looking for an apprentice, and he immediately applied. This was the beginning of his career as a ceramic artist.
Learn everything you can from the masters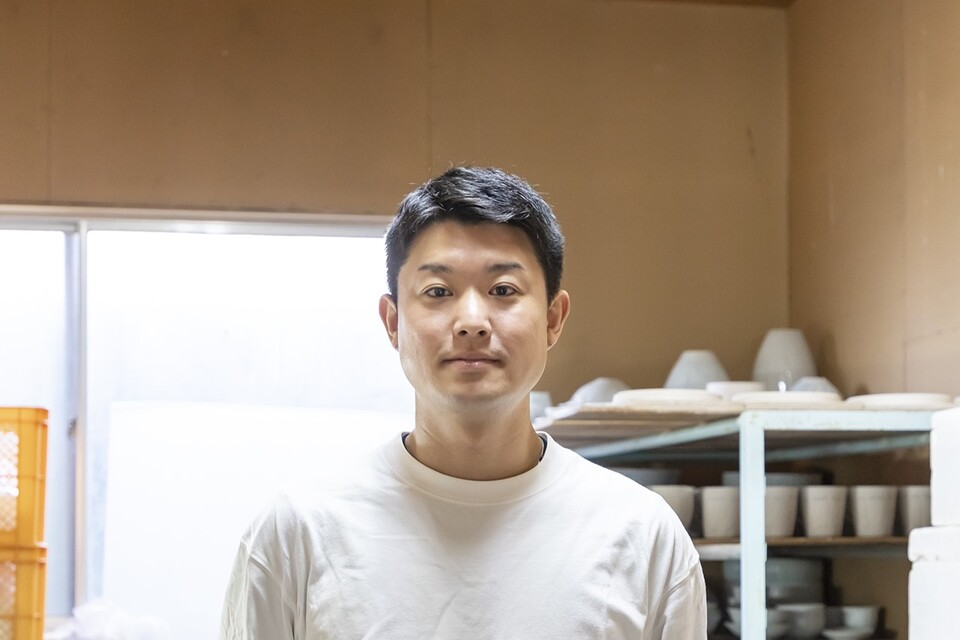 Mr. Taruta has become Mr. Hatano's apprentice. Under Mr. Hatano, who has won numerous awards and has been expanding the doors of ceramic art while focusing on training his apprentices, Taruta learned not only techniques for preparing clay and potter's wheels, but also many other things. He learned where and how to sell his creations. He learned how to negotiate prices, do paperwork, package, and other skills that are not taught in school, such as how to survive as a potter.
After studying under Mr. Hatano for five years, he worked as a practical assistant at his alma mater and went to Europe on a working holiday. Although learning about pottery was not his main goal, he ended up being interested only in pottery. The "unconventional humanity" of the free climate and local artists' studios, which were different from those in Japan, brought about a major change in Mr. Taruta's way of thinking.
What is Hotarute, a technique with Chinese roots?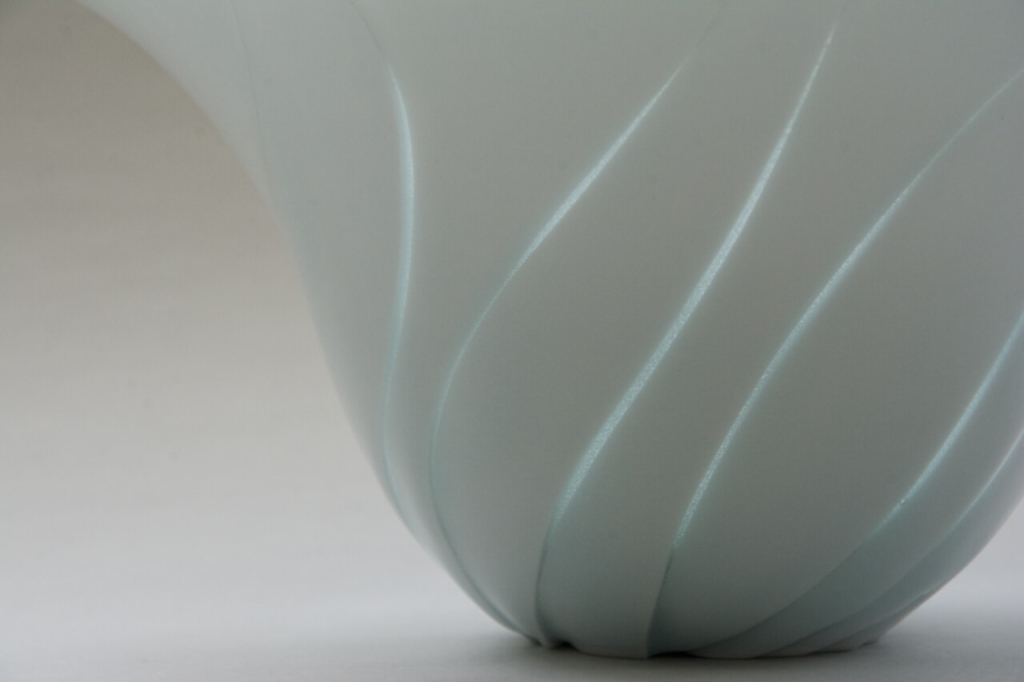 Hotarute," which has been his own style since he was a student of Mr. Hatano, is a technique in which the surface of a vessel is hollowed out and openworked after the vessel has been left to dry for a while after molding. The openwork is then filled with transparent glaze and fired, allowing light to penetrate the surface and creating a glass-like texture.
This technique is said to have its roots in China during the Ming Dynasty, and has been handed down from generation to generation. The difficult part of this technique is that the glaze is not fully covered by the holes in the fabric, making it susceptible to cracking. Because of this and the resulting loss, few artists take up the challenge. If the fabric is too thick, it is a struggle to penetrate the hole, and if it is too thin, the glaze does not fill the hole well and the piece does not look translucent. Mr. Taruta has achieved an exquisite balance between thickness, openwork design, and the technique to realize it, which is the strength of his work.
Transforming dots into lines.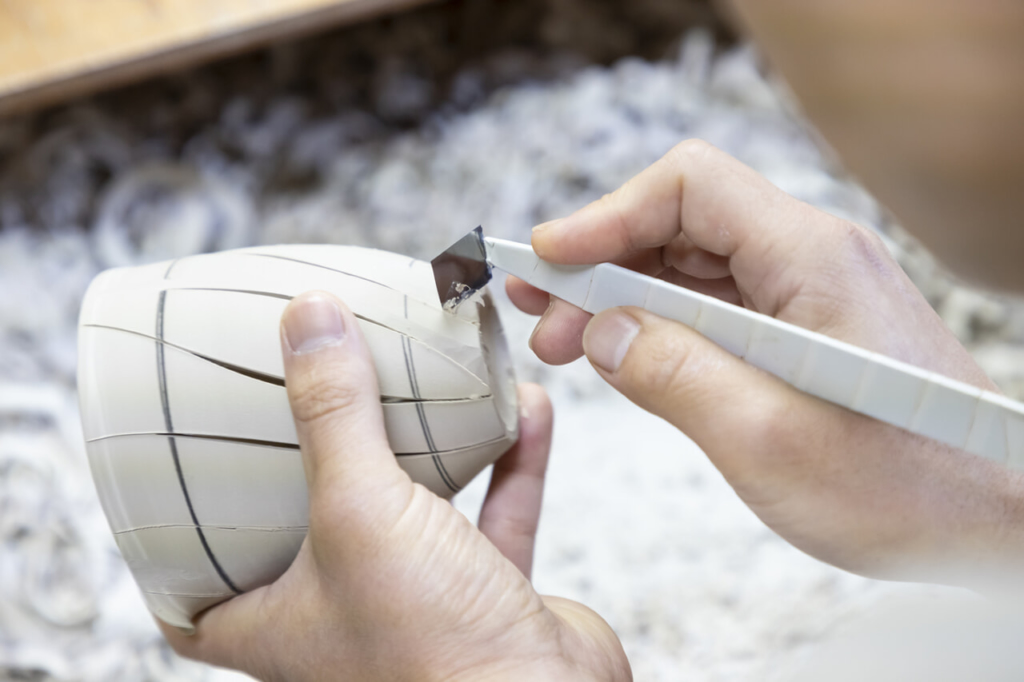 The hotarute technique generally involves drilling small holes, but Mr. Taruta found a unique direction in the form of lines. His desire to "do something that others have not done" was at the root of his work.
Although he made drafts, he cut them freehand. I thought the ambiguity was good. I feel like it shows who I am or who I am as a person," says Mr. Taruta. Even when making the same teacup, the shapes of the teacups themselves are all the same, but the lines used for shaving depend on the rhythm of the moment. No two are exactly alike. The work "Fluctuation," which won the Excellence Award at the 1st Japanese Culture Grand Prix in 2021, is a confident work that expresses "comfortable fluctuation," with light and curves creating a soft atmosphere and a dignified, moderately tense feeling. It is a confident work that expresses "comfortable fluctuation.
like light shining through the clouds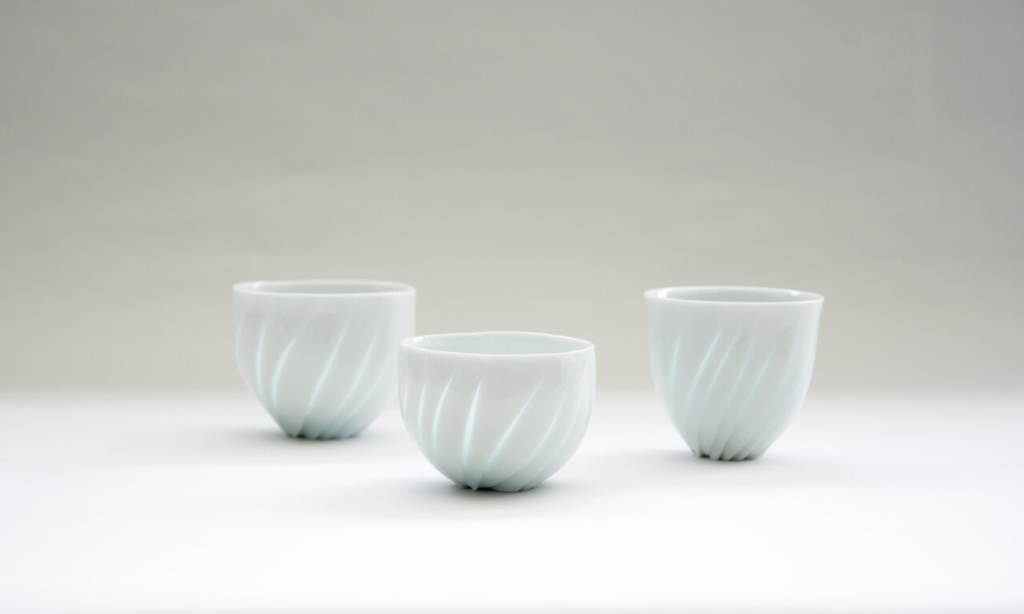 Surprisingly, the glaze is also Taruta's original. The trace amount of iron contained in the glaze weaves a beautiful light blue color due to a chemical reaction during firing in a gas kiln.
This texture is inspired by the light that shines through the clouds or spills through the cracks when a door is opened. Even on the same day, the light is different in the morning and at night, and the color of the light differs depending on the season. Even if you drink from the same teacup, you can enjoy different tastes depending on whether you drink coffee on Sunday morning or sake on Saturday night.
Words of the Master that resonate now.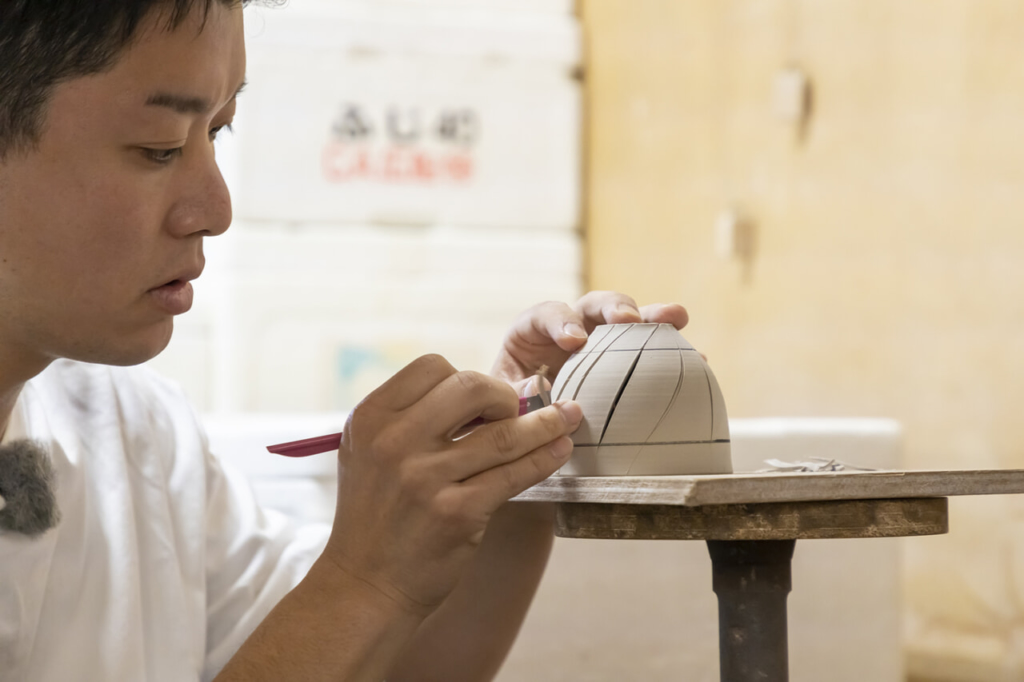 Of course, some of Mr. Taruta's works have straight lines that have been finely cut. There are also designs with multiple fine lines carved into them, inspired by the rays of an electric light when walking in a light rain. In this way, he has created a wealth of works based on the theme of "light.
Mr. Taruta says that he liked stylish architecture when he was young, but while traveling in Europe on a working holiday, he was impressed by sawtooth-shaped mountains, and in his daily life, he was moved by the scenery created by nature. Now, Mr. Hatano's words, "natural things are the most amazing," which he casually uttered during his apprenticeship, resonate in his heart.
When I first became his apprentice, I told him that I wanted to try various techniques such as woodworking and glassworking in addition to ceramics, and he said, "It is important to master one thing. At the time, it was hard to accept this advice, but as he began to master one thing at a time that he had been unable to do in his life as a potter, he came to realize that "it also takes time to master one thing, and the deeper you go, the more you enjoy it.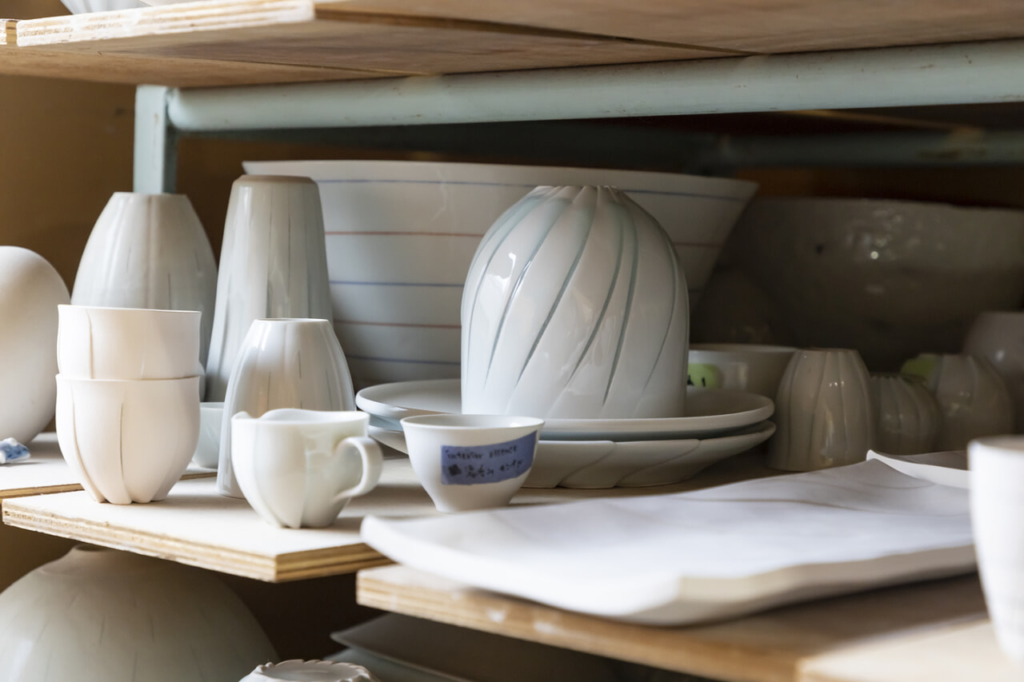 After being moved by the experience of seeing Japanese pottery on display at the Metropolitan Museum of Art in New York, Mr. Taruta has continued to make pottery with the goal of having his own works collected by museums overseas.
After going through his twenties, when he was driven, took many detours, and experienced many things," says Taruta, "now that I am in my mid-thirties, I feel that I need to be a little more realistic about the future. How will the original Hotaru-te evolve and what kind of style will it expand into in the future? We can't help but look forward to a future where Taruta's creations cross the ocean and are exhibited in large museums overseas.
ACCESS
Hiroshi Taruta

Seto City, Aichi Prefecture