Vessels of various styles are lined up in a concrete space filled with soft natural light. Located in Nagahama City, Shiga Prefecture, Toki no Kumo is a gallery that permanently sells works and antiques by artists active in Japan and abroad, as well as Chinese tea ceremony utensils, a rarity in Japan. It is loved by fans who visit from all over Japan and by the artists, who call it "a place to come back to.
A dignified space that accepts any kind of work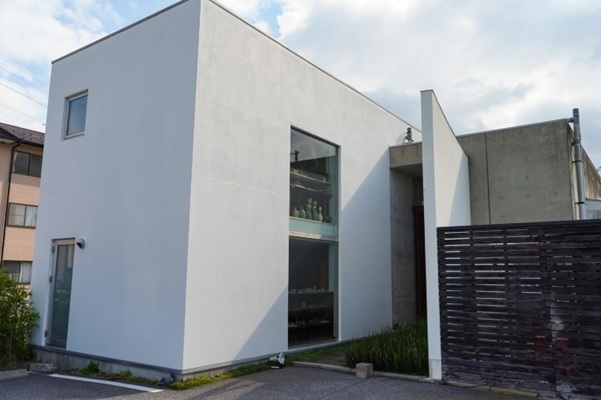 The center of Nagahama City, Shiga Prefecture, where Ki no Kumo is located, is a castle town where Nagahama Castle was built by Hideyoshi Toyotomi. Passing through the busy tourist street in front of the station and continuing on to a quiet residential area, you will see a white building that catches the eye. Open the large steel door, and you will find an open gallery space with a 5-meter-high ceiling. The gallery holds special exhibitions twice a month, displaying and selling works by a variety of artists, including ceramics, lacquerware, glass, woodwork, and metalwork.
When I went to New York on my honeymoon, the ceilings were so high everywhere I went, including restaurants and stores. I admired the sense of openness and modern atmosphere, and I gave shape to that. We didn't make the interior too much from the beginning, leaving room for decoration and other changes to suit the image of the moment," says owner Toyomi Nakamura. Artists are also pleased with the space, as they can bring in large vases that cannot be exhibited anywhere else, or works that hang from the walls.
I want a job I really love that I can be proud of for my children.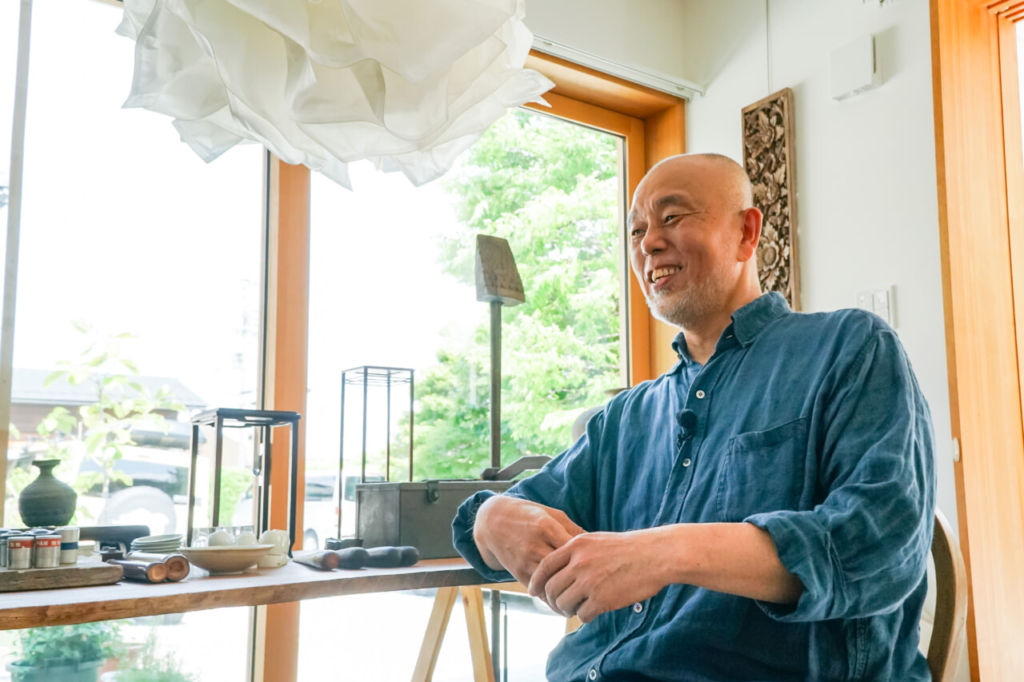 Until his 30s, Mr. Nakamura was an ordinary company employee. When he got married and had a child, he thought, "I want to do a job I really like that I can be proud of for my child," which led him to set up his store here. However, he did not start the gallery from the beginning. He says, "I first opened a dining bar, which had always been a dream of mine. I wanted to open a place where customers from all over Japan could come and enjoy sake while eating freshly grilled dishes prepared on a charcoal grill," he said. He has been fond of tableware since that time, and as he served rare sake and dishes using artist's tableware, his fan base grew, and people from as far away as Tokyo and Kanagawa began to visit the restaurant after hearing rumors of his work. A few years later, the restaurant was converted from a dining bar to an Italian restaurant, with a gallery to display the dishes. In 2023, Nakamura says it will be 20 years since he started the gallery. I enjoy growing old together with the regulars who have been coming to the gallery for a long time, and recently I have had young people tell me that they came to the gallery because they saw it on social media. It's great to have people of all ages coming to the gallery," she smiles.
The world of antique tools that lay beyond the love of tableware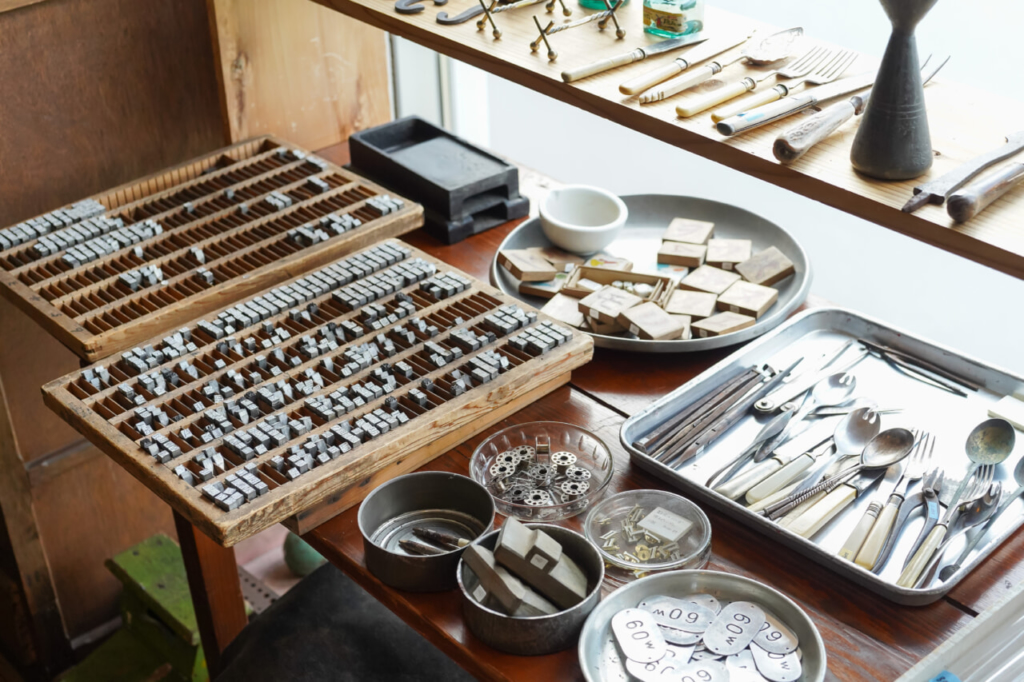 The first floor of the two-story store is a gallery space with special exhibitions and permanent works, and the second floor is a sales space for old tools that Nakamura has purchased and collected. He says he fell in love with old things after starting the store, and as he looked at artists' vessels on a daily basis, he became interested in things made even older. What I have in my house are not so much antiques as old tools and junk (laughs). I don't know what they are used for.
I don't know what they are used for, but I like them better. It's interesting just to imagine what the tools are for and how they are used.
The space where Japanese antiques and Western antiques are mixed together is like a secret base built in an attic. Old vessels that Nakamura has kintsugi (metal-jointed) are also displayed, making the experience like a treasure hunt.
More than 100 connected writers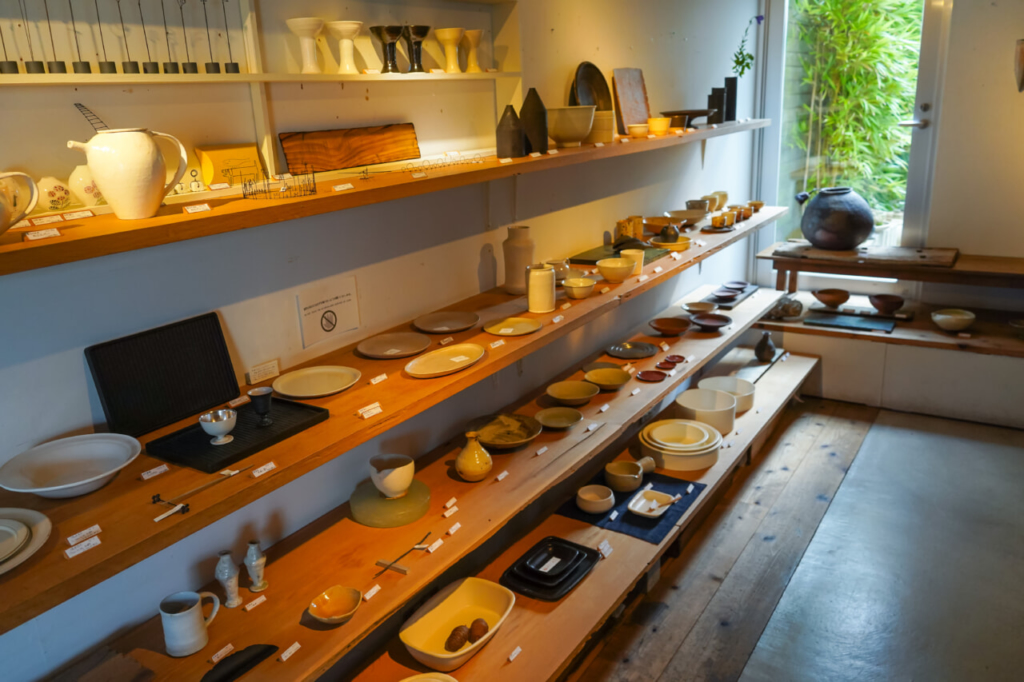 Ki no Kumo hosts more than 20 special exhibitions a year, and has hosted a total of more than 100 contemporary artists for special exhibitions and sales of their works. In addition, the shop continues to enjoy working with many other artists, such as the signature of Taizo Kuroda, a world-renowned white porcelain artist, which remains at the entrance, and Masanobu Ando, who runs "Galerie Hyakuso," with whom the shop has been in contact since its opening. Nakamura says that even when he thinks, "I don't want to add any more artists," he still feels compelled to introduce them to his customers when he finds a good one. He and his wife always visit new artists together before asking them to do business with them. After 20 years of doing this, even artists who were just starting out in their 20s when he first met them have now become accomplished mid-career artists in their 40s. Ryota Aoki, who is now active on the world stage, is one such writer. When I see them become popular or very successful, I think to myself, 'I'm so glad I did this. Discovering unknown artists and witnessing their growth is one of the best parts of being in the gallery.
Where new winds and inspiration are born.
Ki no Kumo is also a valuable place for artists to interact with each other. On the first day of an exhibition, many of the artists visit the gallery, and we always ask them to have dinner and drinks at our place that night. It has become a standard practice for everyone to eat dinner, have drinks, and stay at our house. Many of them usually stay at their studios, so when there is an exhibition, they come to the gallery to deliver the products themselves, and then go to the gallery to have drinks with the local people, or go fishing if they have time. Many people also look forward to a little refreshment," says Nakamura. Dozens of artists gather at the annual New Year's party. When everyone gets together and drinks together, artists who have never met each other before become good friends and start talking about having a two-person show, or a ceramic artist and a lacquerware artist stay up late into the night talking. Nakamura smiles and says that it is a pleasure to see new ideas and inspirations emerge from such encounters, and that this is also the role of the gallery.
Vessel making that began in the daily life of a restaurant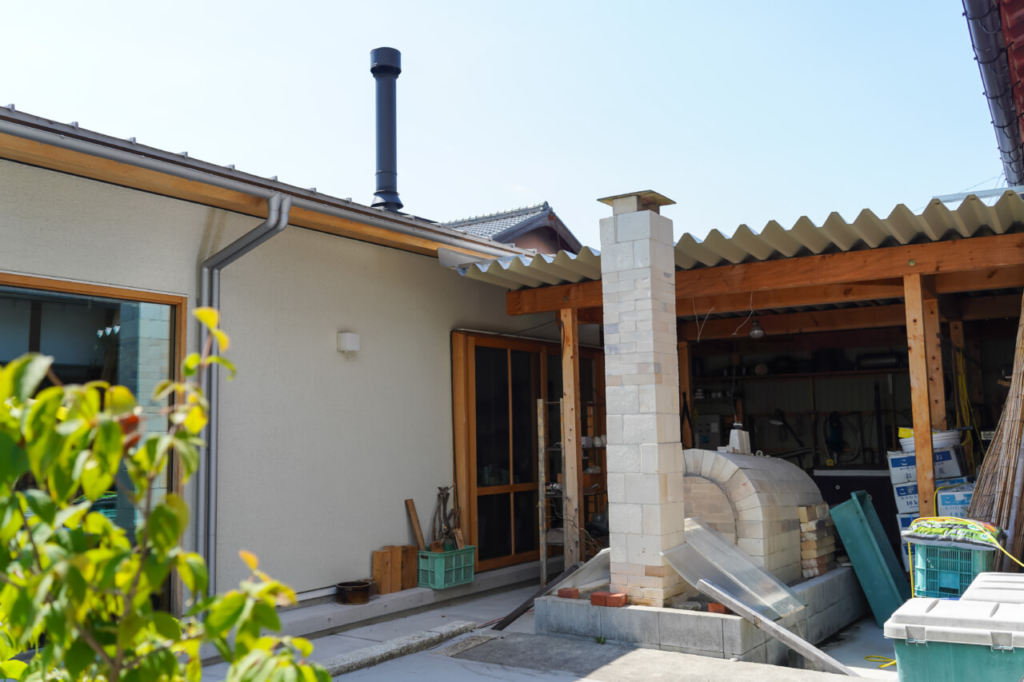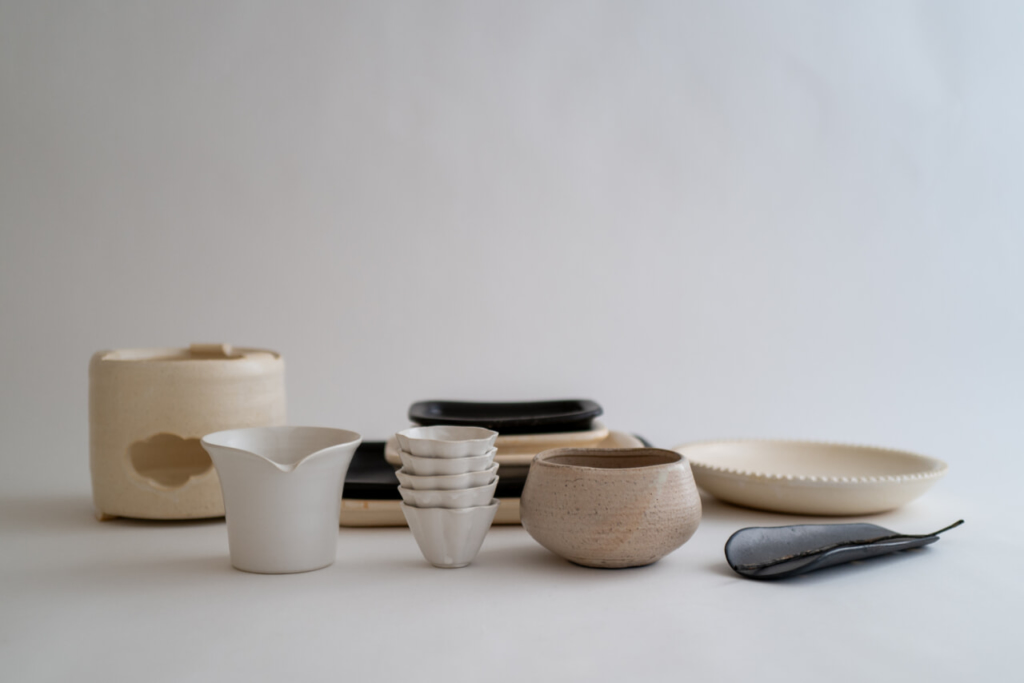 In fact, Mr. Nakamura himself has a side as a creator. I am not an artist, so I don't have any work at ……," Nakamura said as he showed us his home workshop.
Mr. Nakamura began making pottery when Ki no Kumo was still a restaurant. When he saw that the dishes used in his restaurant were frequently broken or chipped, he thought, "If I have to replace them so often, I might as well make them myself. This is a challenge unique to Mr. Nakamura, who is willing to try anything he likes or is interested in. Many people think of the potter's wheel when they think of pottery, but Nakamura's technique is "tatara" making. First, a plaster mold is dug, then clay is applied to the mold, allowed to dry, and then removed from the mold and fired. Nakamura's pottery was started in pursuit of practicality, and his standard is to create vessels that are hard to break, easy to use, and above all, look good with food. Nakamura's desire to "make things I want to use" is expressed in his simple yet beautiful vessels and plates that can be used over an open flame, which are also popular in the Ki no Kumo gallery.
Encounters with Chinese Tea Utensils and Connections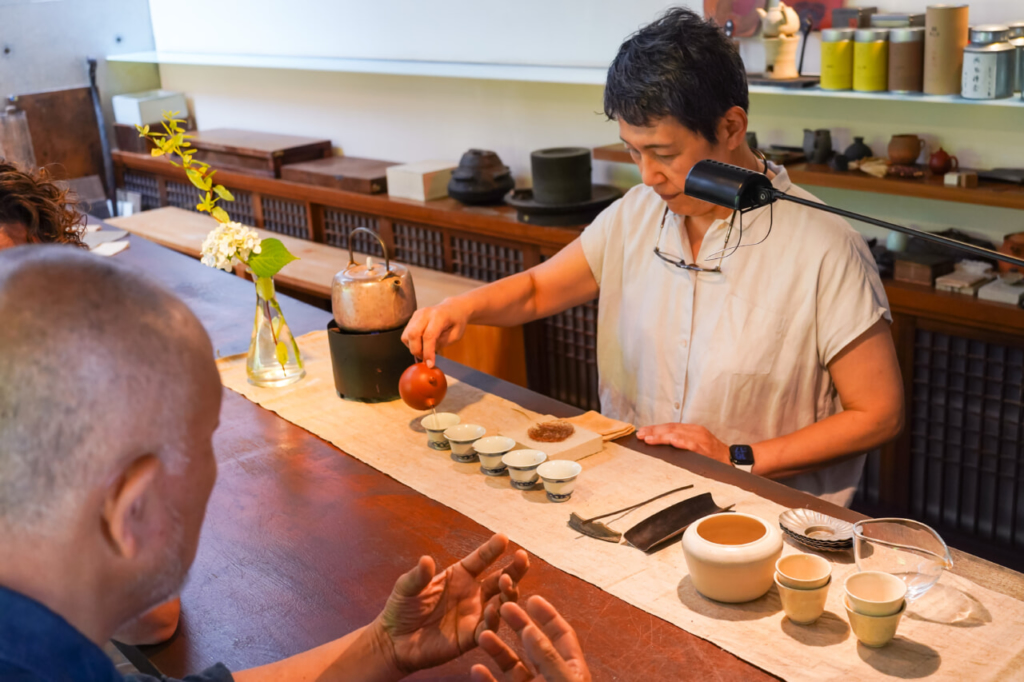 He became interested when he saw Taiwanese tea masters buying items made by Japanese artists, and he and his wife, Keiko, started a Chinese tea ceremony class to which they invited tea masters. As he studied Chinese teaware by listening to the stories of Chinese customers when they came to visit and visiting China himself, he realized that there were no artists specializing in making Chinese teaware in Japan, nor were there any galleries dealing in Chinese teaware. He then asked some Japanese artists with whom he had a relationship to produce Chinese tea ceremony utensils, and they were a big hit. She had been making only tableware for everyday use by Japanese people, so the production of Chinese tea ceremony utensils was a new experience for her, and most of the artists readily agreed to try it.
Keiko also holds not only Chinese tea classes at her gallery, but also "Chayuki," a tea party project in which she travels to various places and regions to work together with tea masters to create a tea ceremony. The concept of this event, which has been held in Japan, various parts of China, and Mongolia, is "a journey to seriously play with tea, conveying and feeling its charm wherever you go. The visitors are, of course, local people, and through tea and tea utensils, people are connected to each other.
I want people to feel closer to the work by holding it in their hands.
We are a gallery. We want people to be able to touch, feel the weight and texture of the work, and then buy it. I think the beauty of a gallery is that you can feel the work more closely," says Nakamura.
Today, it is becoming commonplace to search online for anything you want and purchase it as is. While it is convenient to be able to pinpoint exactly what we want, we are probably less likely to have the experience of stumbling upon something that attracts us by chance and broadens our horizons for some reason. It is precisely because we live in an age in which "waste" is being eliminated that there is a demand for "blank spaces" that contain possibilities. The existence of galleries that offer encounters with wonderful works of art that have yet to be seen and that expand one's worldview will continue to attract attention not only from visitors and collectors, but also from the creators of the works, and will continue to enhance their value.
ACCESS
211-1 Yawata-higashi-machi, Nagahama City, Shiga Prefecture
TEL 0749-68-6072