Ken and Katsuko Sasaki are winemakers who are dedicated to producing wines with the aroma and taste of the region, based on the philosophy of "nouraku," which means "to enjoy farming by bending and swinging," and "to pursue our own ideals without belonging to any one place. The couple, who have been involved in wine production in some of the world's most prestigious wine regions, chose the Southern Hokkaido region, which includes Hakodate, as their winemaking base.
Learning and meeting in Burgundy, the master of wine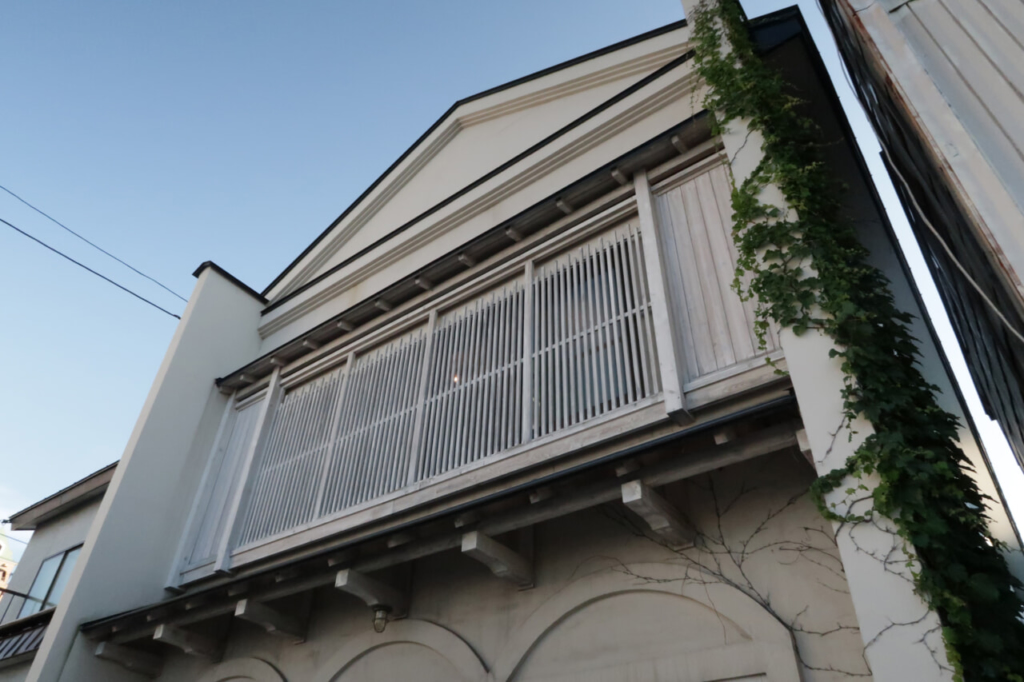 Located at the southern tip of Hokkaido, the port city of Hakodate has served as a hub for international trade. As the gateway to Japan, Hakodate has a history of early influx of Western culture, and its modern buildings with a "high-color" exotic atmosphere are eye-catching. The winery "Norakura" is located in the Motomachi district at the foot of Mount Hakodate, a central tourist area.
Some people are surprised to find a winery in the city center. The farm is located in the Bungetsu district of Hokuto City, which is adjacent to Hakodate City, and the grapes are grown on a south-facing slope with a night view of Hakodate City.
Ken Sasaki, who runs Nora-Kura, says, "We grow grapes on a south-facing slope overlooking the night view of Hakodate city. He and his wife and partner in winemaking, Katsuko, are "growers" who are committed to making wine with a focus on the climate, climate, and growing environment.
The winery, which incorporates both Japanese and Western influences to match Hakodate's classic atmosphere, was originally renovated from a building that was once a printing office in town. The winery is located in a building that used to be a printing office in the city. We were able to communicate our thoughts on winemaking directly to them, and I think that was a good thing in the end.
Ken was born in Muroran City, but spent his childhood and high school years in Chiba. While pursuing a university education, he had always been interested in wine, which he had always loved.
I was interested in the so-called "sixth industry" of making and selling wine while farming, and I found it more interesting to think about wine than to go to college," he says. So I went to France."
In France, he attended an oenology school in Beaune, the center of Burgundy wines, and then returned to Japan and worked at wineries in Yamanashi and Tochigi. As he studied wine in this way, Ken felt that farming and grape growing were not something he did consciously, but something that was integrated into his way of life. In order to confirm whether his feeling was correct or not, he went back to France to further study at renowned wineries such as Christian Vignerre in Alsace and L'Ecrapale in Champagne, both of which are producers of natural wines using organic farming methods.
It was around this time that he met his future partner, Katsuko.
There were Japanese who visited Burgundy, but they all wanted to work as sommeliers or in stores. We were the only ones who wanted to be winemakers.
Born in Saitama Prefecture, Katsuko's family is a dual-income farmer. They ate rice and vegetables grown at home, and handmade pickled plums and pickles were a staple in the household, so fermented foods were a familiar part of Katsuko's life.
As she grew up, Katsuko became interested in fermentation, especially sake, and enrolled in the Department of Brewing and Fermentation at the Tokyo University of Agriculture. After graduation, she took on brewing duties at a winery in Hyogo Prefecture. I entered the wine industry because I wanted to make sake, but there was not much to learn about wine in Japan at the time, so I decided to study abroad and then return to Japan to establish my own business," says Katsuko. She studied at the University of Burgundy's Faculty of Oenology and spent her days studying to obtain the difficult certification of French National Oenologist (DNO).
It was during this time that she met Ken, a winemaker with whom she had much in common, and the two became comrades, talking about wine and improving each other.
Hokkaido, Donan, and Hokuto, where grape growing conditions are essential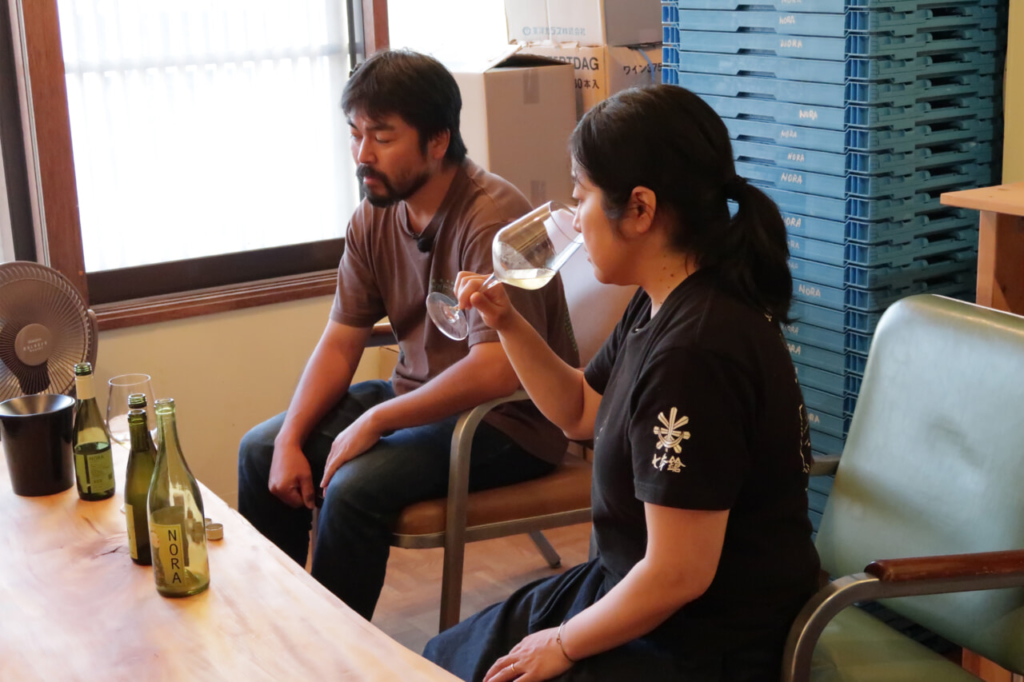 The two naturally became partners. After Katsuko obtained her DNO and Ken obtained his DTO and other certifications, they returned to Japan and finally opened Bungetsu Vineyard in Hokuto City in 2011. The couple chose Hokuto City to fulfill their dream because it was an environment where they could grow grapes for their favorite wines.
We like wines with a strong acidity, which we describe as 'full-flavored. It's a little difficult to put into words, but we describe it as a wine that has flavor from the moment it is put into the mouth to the aftertaste. If the wine is not ripe, the taste in the mid-palate is blurred.
It is said that Naimoto wines tend to have a weak mid-palate. He chose Chardonnay, a white wine grape variety native to Burgundy, because it is a well-known grape variety. Although Chardonnay is a well-known grape variety, it is known as a kind of elusive grape variety that reflects the individuality of the terroir and the winemaker, rather than the distinctive character and flavor of the grape itself.
We focused on where the Chardonnay would be to our taste," he said. Particular emphasis was placed on the effective total temperature. Generally, we calculate this by adding up the number of days during the period from grape budding to harvest (roughly from May to October in Hokuto City) when the temperature exceeds 10°C, which is the lower limit, and the portion of the days when the temperature exceeds 10°C."
Using 10°C as a standard, they say that if the temperature is too low or too high, the quality of the grapes will be affected. The effective total temperature to achieve the taste of wine that Mr. and Mrs. Sasaki seek is approximately 1,200°C, and to narrow it down to that condition, the altitude is 1,000 m. "Even at the Yamanashi winery," Mr. Sasaki said, "the conditions are not met.
There are wineries in Yamanashi that meet the criteria, but I thought it would be better to go to Hakodate or Hokuto, which are closer to my roots. And this area is cooler than others. I thought that if the grapes ripened slowly in the cold, they would taste the way I like them. If it is hot, the grapes need to be harvested earlier. Chardonnay grapes need to ripen slowly and be harvested with good acidity, so we need some time in the cooler fall months.
Chardonnay is said to prefer limestone soils. The well-drained, mineral-rich limestone of Hokuto fits the bill. The limestone from the Togatta mine behind the vineyard was also used to create an environment that allowed the unique terroir of Nogakura to be brought to bear on the flavor of the wine.
Nourakura's philosophy of not daring to list the variety on the label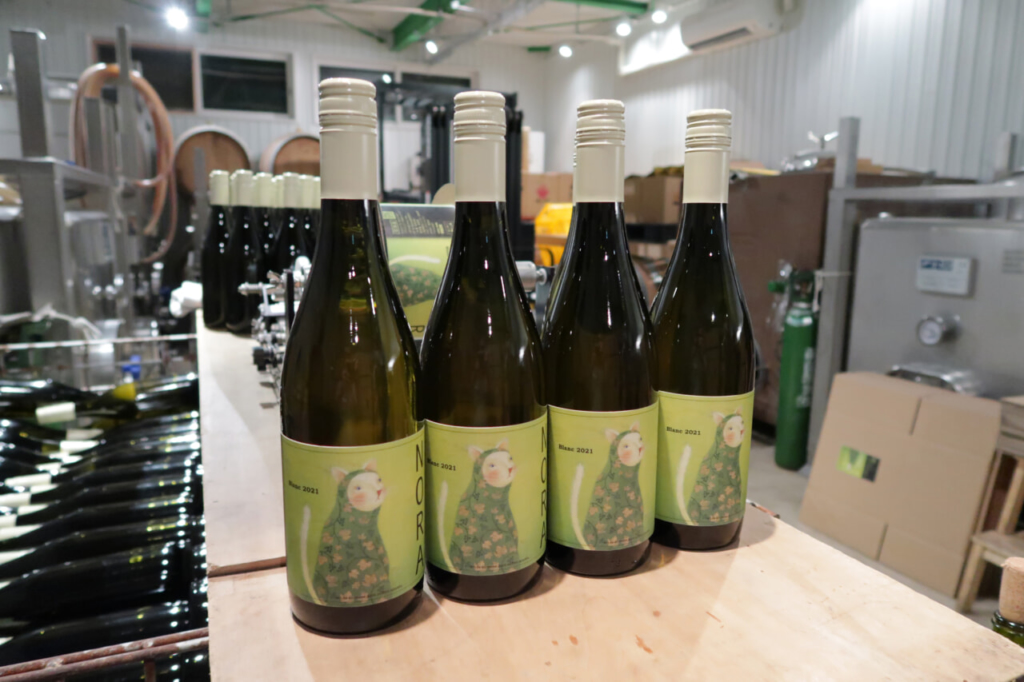 The year after the opening of his own farm, he established Nourakura in Hakodate, and by 2015, three years later, he and his wife Sasaki were able to harvest a decent amount of grapes from their own work. At the same time, however, they also sell wine made from high-quality grapes from contract farms in Yoichi Town in southern Hokkaido and elsewhere.
The main lineup includes the Nora series, which has a distinctive "This is Nourakura" character; the Nora-Pon series, which uses grapes from contract farms and is full of "Hokkaido character;" and the avant-garde Nora-Ken series, which is made with what Mr. and Mrs. Sasaki call "test-lot cuvées" and is freewheeling and free to do whatever they want. From vineyard work to vinification, the couple works alone to provide only what they are satisfied with.
They use wild yeast and do not use sulfites (antioxidants), which is also the Norakura style.
The wild yeast is clearly more complex and gives a more three-dimensional taste. Of course, there are cases where unintended complexity comes out, but it can be said that it adds depth to the flavor. It is also interesting that we, the winemakers, can control the unintended aspects during the aging period," says Ken.
As for sulfurous acid, he says that it is partly a matter of taste, as the first sip is more snappy with sulfurous acid, but he also says that wines made with sulfurous acid are less compatible with food, especially seafood. He believes that this could be a fatal flaw for a wine from Hakodate, a seafood town.
Furthermore, it is Nourakura's style not to put the grape variety on the label. The reason, he says, is that he wants people to simply enjoy the wine without preconceived notions. I think of the grape variety as a kind of symbol. Of course each grape variety has its own personality, but the most important thing is the "character of the region," so we don't go out of our way to show the grape variety. It is a very important theme for us to be able to bottle our wines without losing the character of the locality.
Passing on the art of wine and promoting it as a 6th industry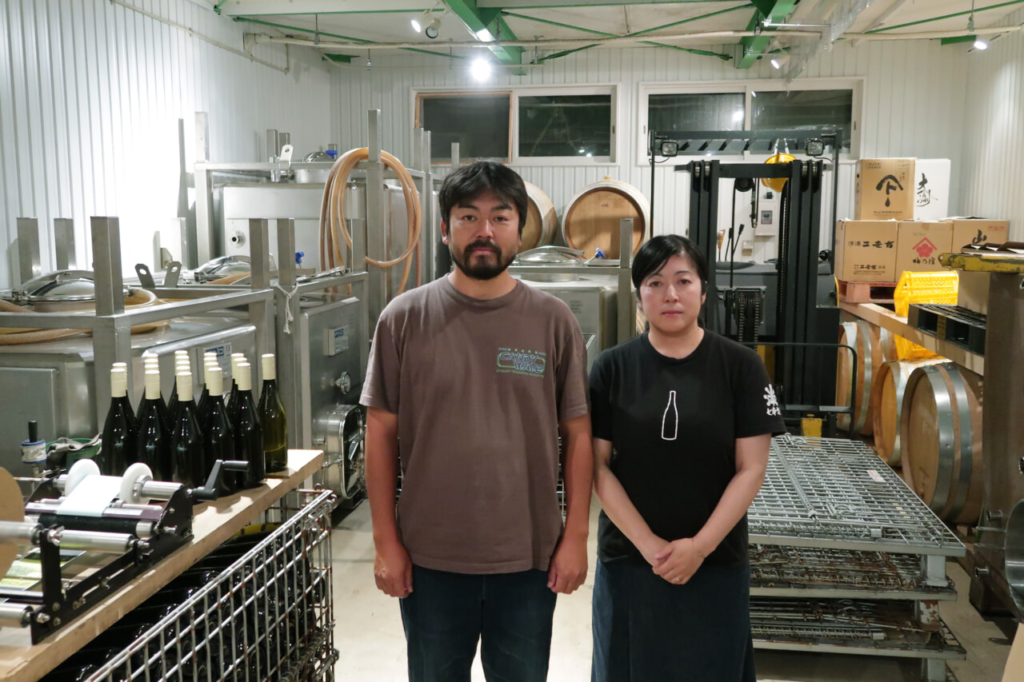 Mr. and Mrs. Sasaki say that as a winery in town, they have been able to convey the appeal of wine to many people. However, they also say that due to the limited space, they have had to ship their wines within a few months of bottling.
We really want the grapes to ferment as they like, so we want to keep the wine for at least six months after bottling. Then we don't have the space. I believe that some wines have character that only comes out after aging.
He continues, "We also want to devote our energies to increasing the number of winemakers in Japan and spreading the techniques of winemaking.
We don't increase the number of wineries because we have a philosophy of pursuing our ideals and offering what we are satisfied with, but we would like to increase the number and variety of wines by teaching the skills to those who aspire to be winemakers. For example, there is a clear difference between 10 wineries making and distributing one type of wine each, and one winery making 10 types of wine. The former has more diversity."
Ken speaks softly, saying that he is willing to share the skills and knowledge he has actually cultivated, and that he thinks it is more interesting. He is also prepared to introduce the winery's land to prospective winemakers.
I think it would be good to have a sixth industry that combines the arts with the livestock industry and the agriculture and water industry. To make wine and culture more culturally significant, it would be interesting to work with music and painting, regardless of genre.
Mr. and Mrs. Sasaki are planning to relocate the winery to a new location in order to improve the quality of their wines. The new location will include vineyards, a winery, and an auberge run by sommelier Motohiro Ogoshi. The Nourakura's consistent philosophy of connecting people to each other through wine and expanding the world of wine will continue to be a modest, yet enjoyable endeavor.
ACCESS
Norakura / Norakura Co.

31-20 Motomachi, Hakodate, Hokkaido