Tateyama Town in Toyama Prefecture, where the Tateyama Mountain range of the Northern Alps rises high above the city and a peaceful rural landscape spreads out. Born and raised in this town as the youngest daughter of a family of potters, we interviewed Ms. Yui Shakunaga, who creates one-of-a-kind pieces using copper, brass, tin, and other materials, about her thoughts behind her work.
Fascinated by the tarnished look of antique spoons, he started his career in metal modeling.
Hers father is Yukio Saketsunaga, a representative artist of Etchu Seto ware with a history of over 430 years, and his sister and brother are both ceramic artists. Born into a family of traditional potters, Mr. Wei studied metal crafts at university and worked as a prototype maker at MIKIMOTO, a jeweler. After leaving the company, he worked at the Kanazawa Utatsuyama Craft Workshop before becoming an independent metal modeling artist.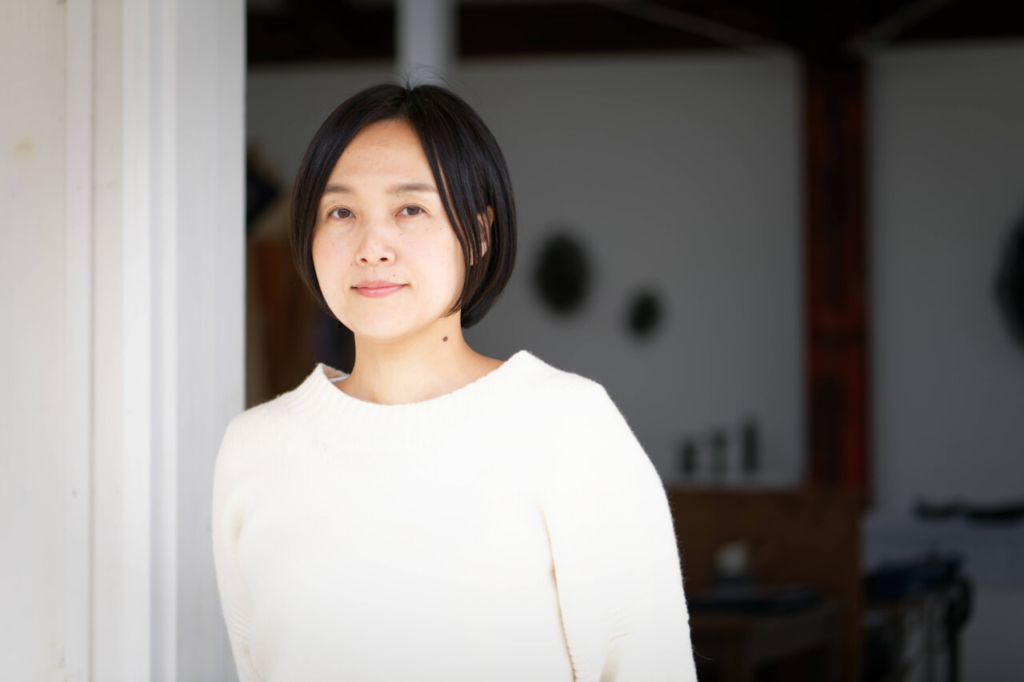 I first became interested in metals when I was in the early grades of elementary school. One of my father's friends had a rather unusual uncle. He was a collector of medieval European spoons. He told me that the beauty of metal is amazing, and that the charm of metal is that it gets scratched and changes color," says Wei. The site of his great-grandfather's tile factory, where he used to play every day as a child, and how the exposed steel-frame buildings blended in with the rusting nature, also left a strong impression on his mind.
At MIKIMOTO, a jewelry company, Ms. Wei was involved in the production of prototypes using metal and mastered the art of metal engraving. When she was making the base for the gemstone, she said, "I thought this base was beautiful. Even without the diamonds, it is beautiful on its own. I wondered why I felt it played a supporting role. I felt that it could be expressed with metal alone. It was this feeling that led Mr. Wei to metal modeling after he retired from the company. He laughs, "Manufacturing is a tough job, and my parents wanted me to continue working at a stable company, but I came back to this side of the industry after all.
The studio in his hometown of Tateyama was once the site of his great-grandfather's tile factory. A steel-frame tile yard was renovated and used as his studio. The neighboring area, also a former factory site, is empty of residents, allowing Wei to devote himself to his work regardless of the time of day. The sound of Wei tapping the copper plates with a hammer echoes through the studio to this day.
Brass and copper objects with a sense of softness and fragility
YUI creates objects and vessels made by bending and shaping metal plates using the tan-kin technique. Although metal has an image of being hard and heavy, Wei's works are so delicate and flexible that they seem to move softly at first glance.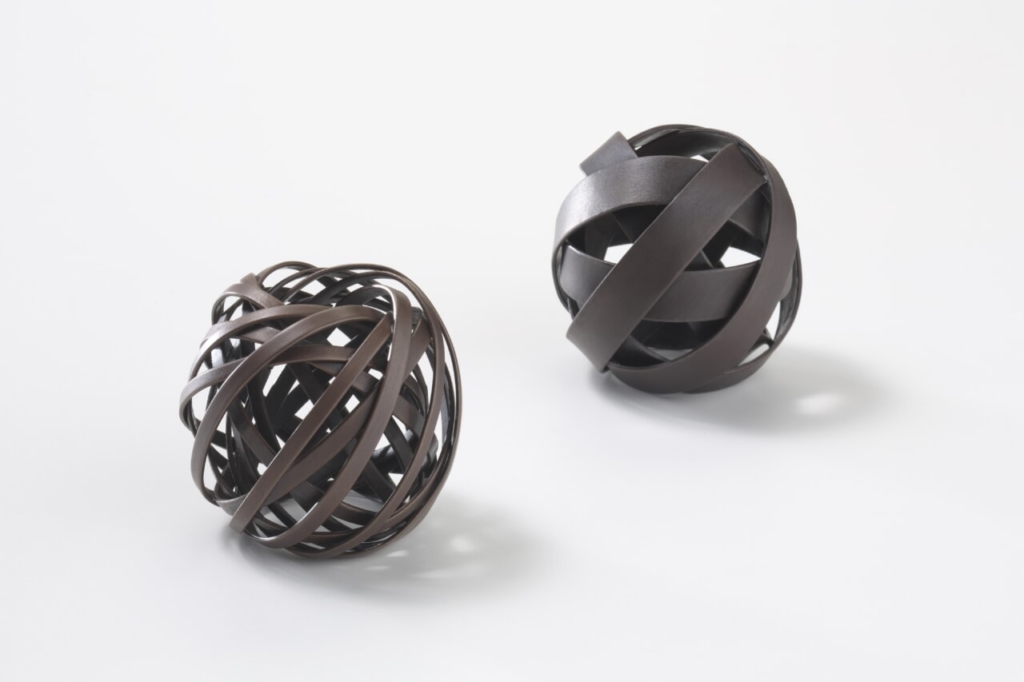 Hers debut work was the "Enkan Lidded Tableware". When he was wondering what to make after becoming independent, he decided to make a lid rest for tea ceremony utensils, which he learned at the Utatsuyama Craft Workshop in Kanazawa. Inspired by his own name, "Yui," which was given to him by his parents, meaning "to connect," he connected and twisted many brass rings to form a circle. The loveliness of the shape and the luster of the texture leave a lasting impression.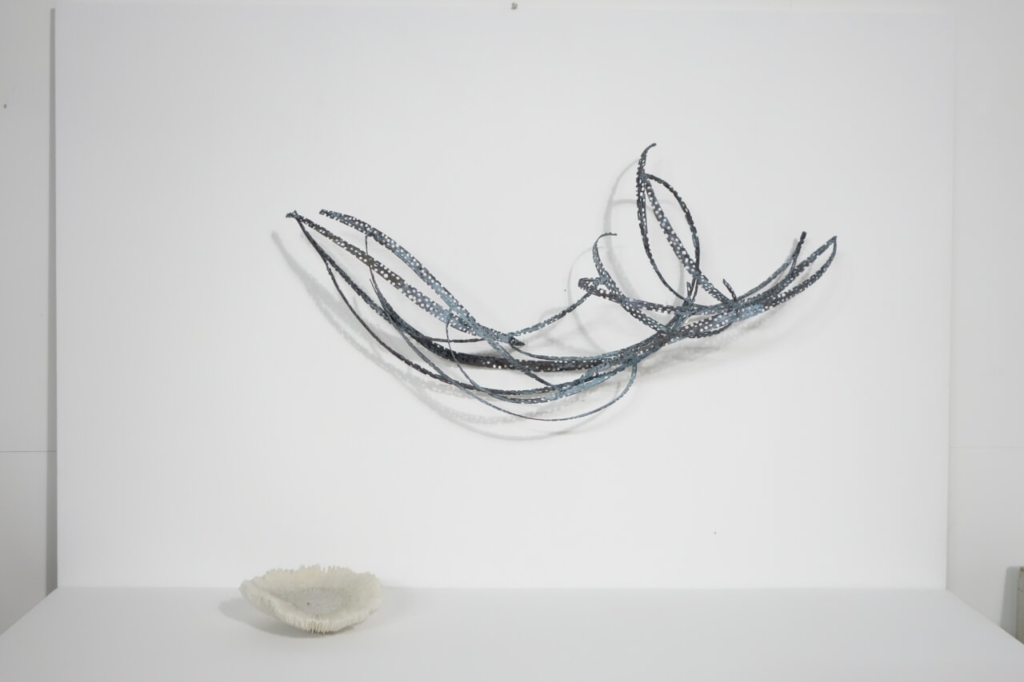 The object, formed three-dimensionally by drilling countless holes in a copper plate about 1 mm thick, is as light as the wind with its supple curves. Heated over a burner to soften them, they were twisted as desired to express free movement. The lace-patterned vase is also somewhat mysterious and breathtakingly beautiful. The vase looks like a piece of dyed bamboo instead of metal.
She says, "If you create something with the latent image of metal being hard and heavy, it will really look like that, but I keep working on it while capturing the supple part. That is why I am happy when people say it looks like light bamboo," says Wei.
Copper colored in its natural state by sulfidation reaction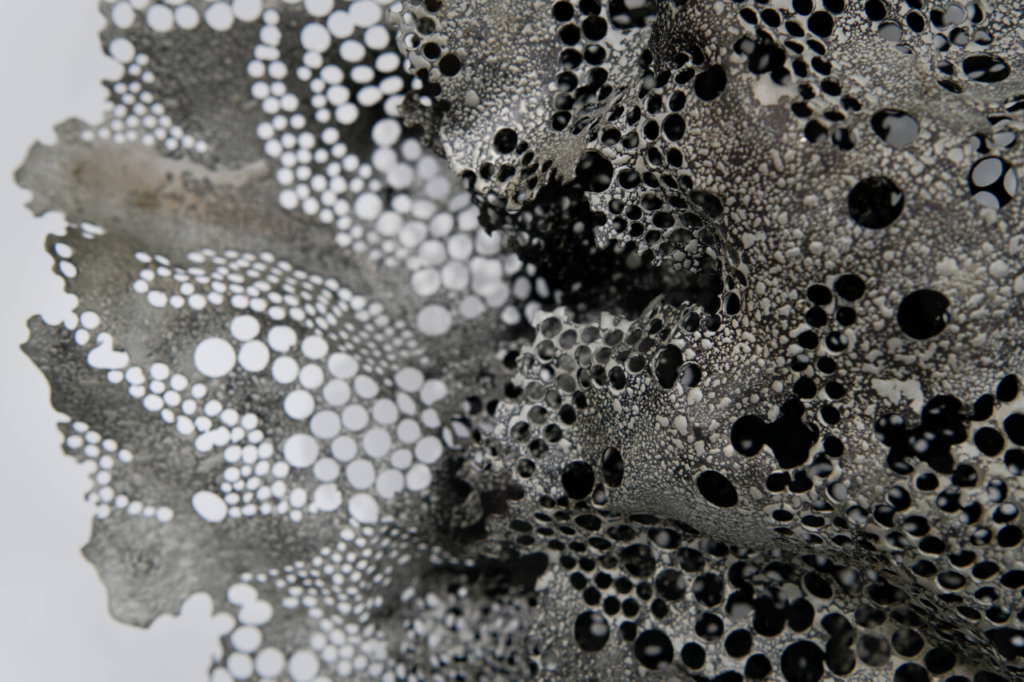 The coloring technique is also distinctive. Tin is applied to the surface of a thin copper sheet and melted, creating a gradation of black to white using a technique called sulfurization coloring. Sulfurization causes only the copper to react and turn black, while the tin does not react and remains white.
Depending on the timing of when the sulfurization reaction is stopped, the color can change from a bright copper color to a deep hue. Mr. Wei values the hue of the material as an extension of nature.
Tin is applied like a glaze.
The reason he uses tin is because when he combines it with copper, an unexpectedly beautiful hue is created.
YUI says, "When I worked for a jeweler, precious metals were polished to a shine, but I wanted to bring out the characteristics of the metal and give my pieces a tasteful look.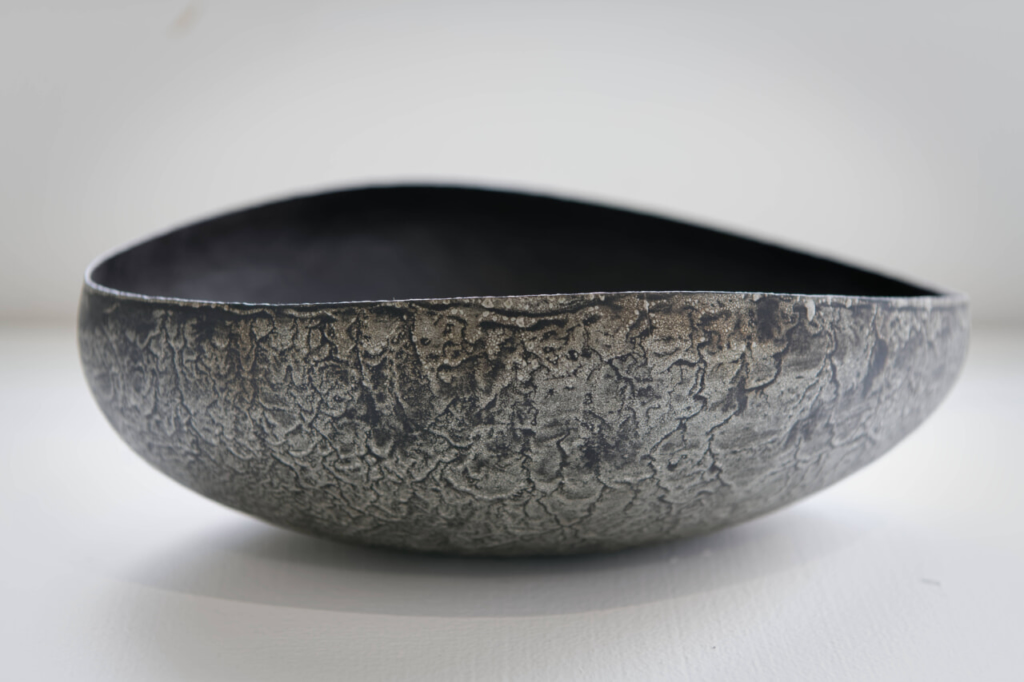 Copper is softer than other metals, so it is easier to give shape to one's thoughts. There was a time when I was practicing to draw tin evenly and thoroughly on the surface of copper, but it just didn't seem right. I tried melting the tin as it naturally flowed and sulfurizing it to create a coloring, which produced an interesting look.
I have a longing for glaze because I was familiar with ceramics," he said. Tin is too soft to handle at room temperature, and when it is put on fire, it melts and does not move the way I want it to. So I thought, "Let's try to make the tin stay where it will naturally settle when it is placed on the copper. I felt that this was a little like the process of "letting nature take its course," as in the case of ceramics, where the glaze is melted by the flames in the kiln.
The idea of circulation, as if becoming one with nature, is used in the work.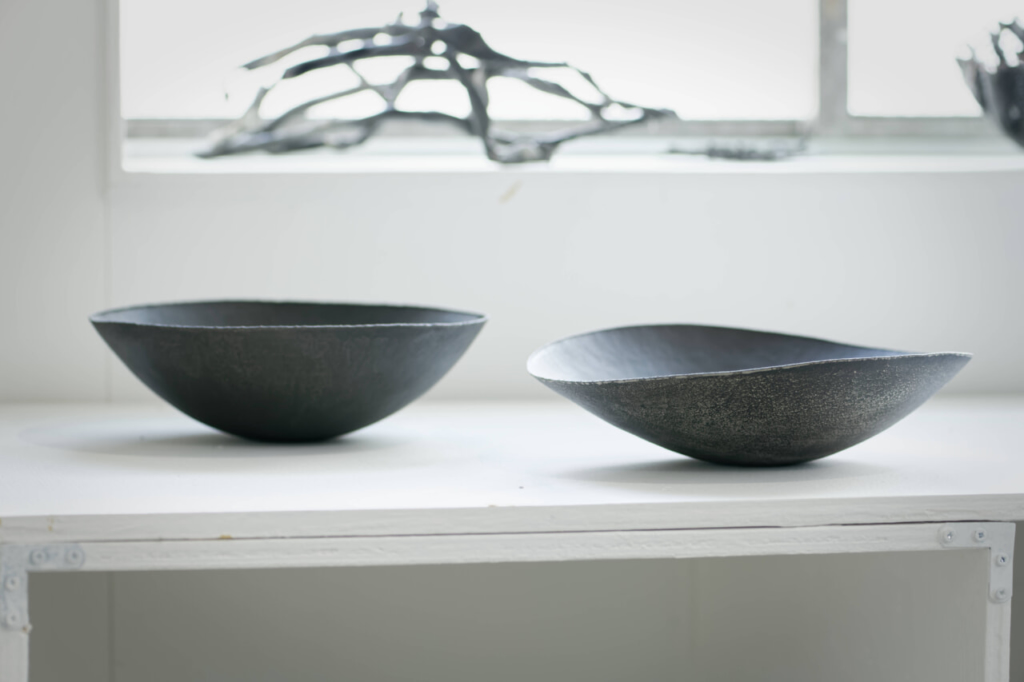 YUI's goal is to create works that blend in with their surroundings when placed in nature. Although it is possible to draw the eye with color, I want to create something that is an extension of nature," says Wei. Although often described as "plain," even the gradation from black to white is a color that is truly versatile.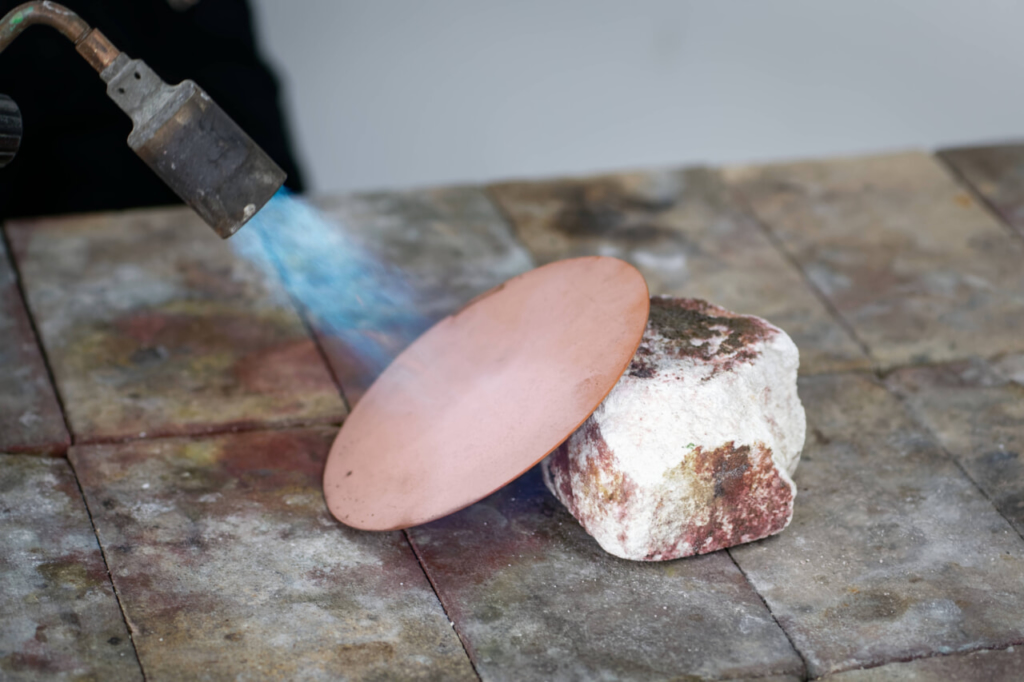 The unevenness created during the burning process is also left as is. YUI says that accepting the happenings she encounters during the production process is also her way of expressing herself.
When I first started out in this field, I used the standards I had acquired at university and at work as a guide, but I was also constrained by them," she says. She was so concerned with dimensions and neatness that he could not accept any distortion.
But while maintaining this base, she has created new techniques and combinations of materials, and has come to see everything as "proof that it was made by my own hands.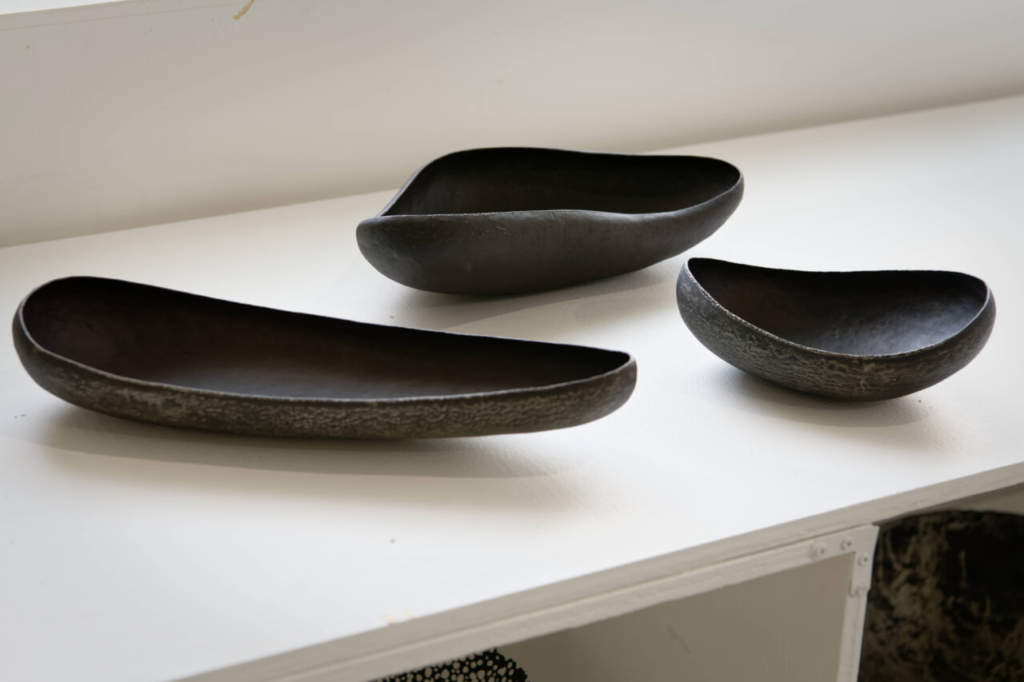 YUI's three-dimensional works and vessels, which seem to reflect his heart, are also used at Chef Eiji Taniguchi's auberge "Revo," which offers a unique dining experience in the pristine natural environment of Toga Village in Toyama Prefecture. Chef Taniguchi pursues true local production for local consumption and sublimates Toyama ingredients into avant-garde regional cuisine with endless ideas. He has created his ideal dining space with original tableware, cutlery, and interior design fully ordered from artists and craftsmen. He received two stars in the "Michelin Guide Hokuriku 2021" and was awarded "Chef of the Year" for the second time in "Gault et Millau 2022. Wei's work, which is inspired by the cycles of nature, is an integral part of Chef Taniguchi's worldview.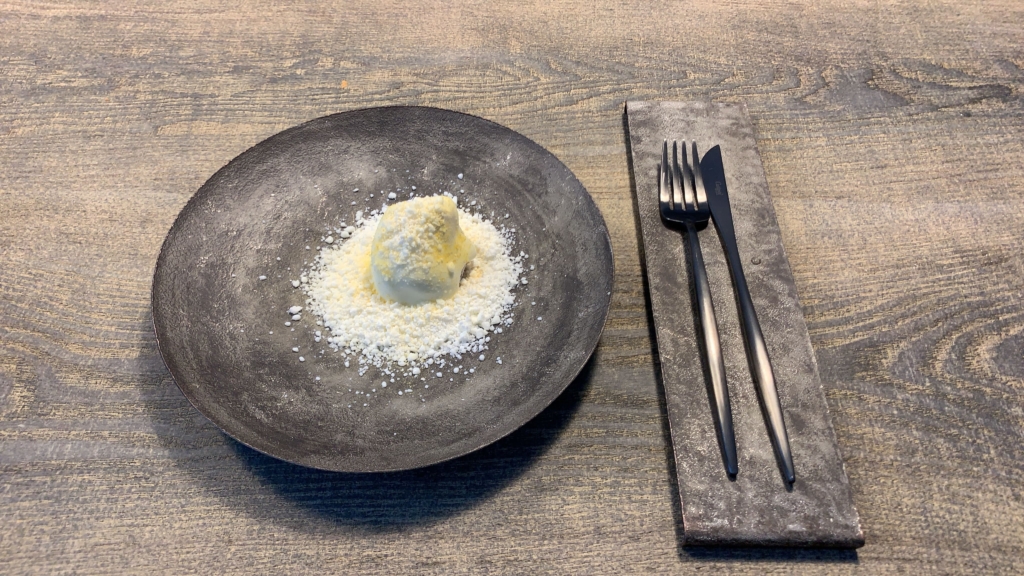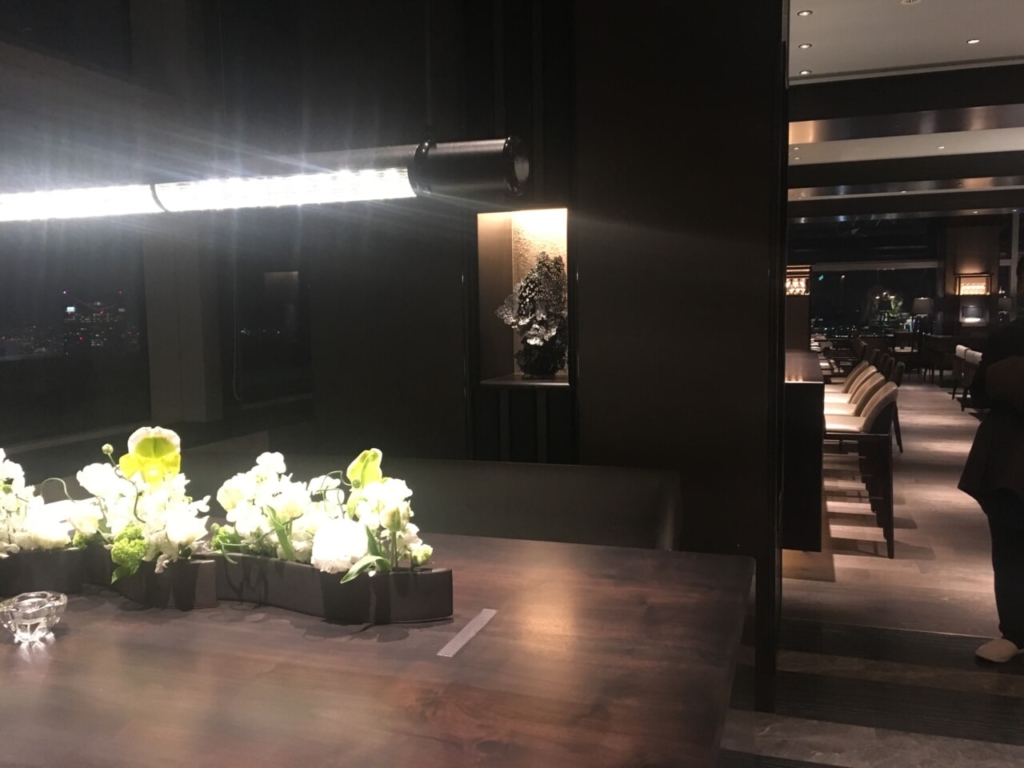 In addition to "Revo," the giant lace-patterned objet d'art also shines dully and beautifully in the chocolate and pastry store on the 45th floor of the world-famous luxury hotel "The Ritz-Carlton, Tokyo. Wei's attention as a metal sculptor is only increasing.
Every time I have a solo show or an exhibition, I always have a clear idea of what I want to try next. The joy of having someone who shares my senses is unique. It is also fun to look down and see when my work resonates with people and when it does not. I am happy if I can push forward in the direction I want to go and expand my world through my work.
The suppleness of metal, its fragility as it decays in nature, and its fragility and transience. Finding beauty in these qualities, Wei will continue to express herself freely and lightly with her unique sensibility and techniques.
ACCESS
Tateyama Town, Nakashinagawa-gun, Toyama Prefecture