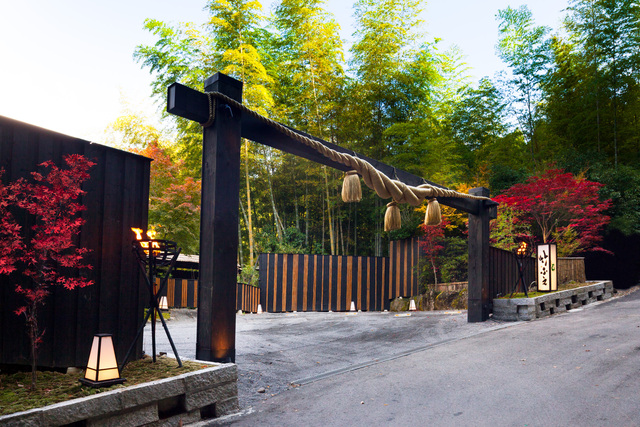 Shirakawa Onsen in Kumamoto is a small collection of onsen located to the north of Aso Kuju Park in Minami Oguni-machi. The water consists two of the three elements known as "bijin senshitsu" or elements creating beauty. Shirakawa water source is also located nearby, one of the top sources of quality spring water, making Shirakawa Onsen a very popular spot.
One of the traditional Japanese style ryokans in the area, Takefue is a hideaway known to very few. 12 guest rooms are scattered about the very large property with tens of thousands of bamboo trees.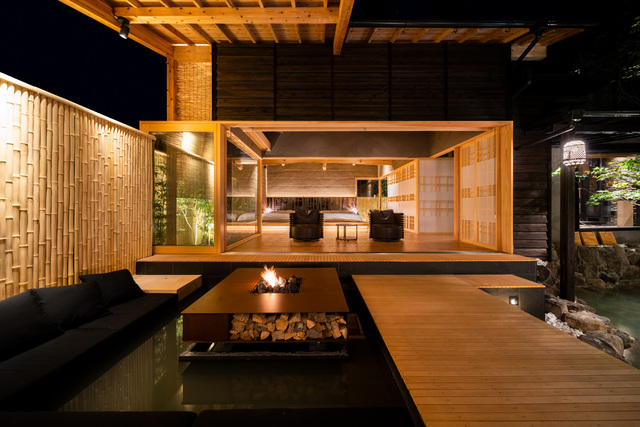 The guest rooms are very serene, designed like traditional Japanese homes with different varieties of bamboo used throughout. The color tones and lighting are also carefully chosen to ensure that the view of the beautiful bamboo trees stand out. Bamboo is used for the furniture, décor and even the wine cooler. Every room has a Japanese style room, an "irori" or open hearth for dining, and a uniquely designed hot spring bath that has an expansive view of the bamboo forest. 8 of the independent guest rooms also have outdoor baths where you can immerse yourself in the beauty of the bamboo trees.
Takefue also has their own pâtissier who makes the Baumkuchen served as a welcome sweet. The light sweetness and moist texture is a wonderful pairing with the stone ground coffee available in the room.
Dinner is served in the guest rooms by the "irori" and includes bounties from both the ocean and land. Fresh seafood is delivered from Beppu Peninsula and combined with Kumamoto Kuroge Wagyu to create an appetizing Japanese style "kaiseki" course dinner. For breakfast, enjoy rice cooked in a pot, eggs, local delicacy "gojiru" and fish grilled in the "irori".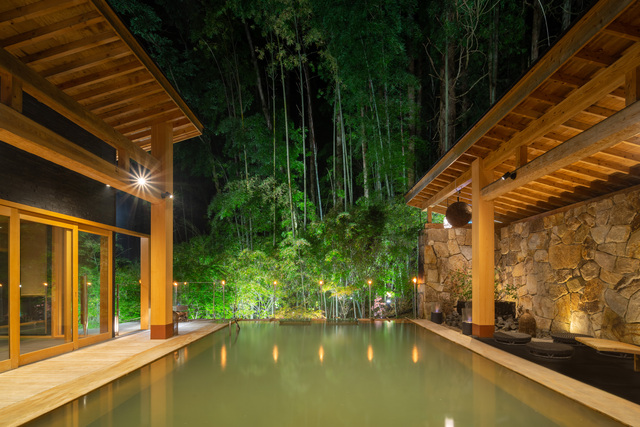 There are 3 baths that can be reserved for private use as well as a special bath reserved for exclusive use by guests staying in the adjacent villa, Chikujo no Ma. It is a large outdoor bath measuring 7m x 5m with magnificent views of the grand bamboo trees which are lit up at night. Guests can enjoy a thoroughly relaxing moment in this expansive bath which also has a room with speakers and glass light fixtures, or even float in the hot spring using the inflatable boat.
There are special touches scattered all throughout as you wander the halls connecting the guest rooms, hot springs and spa. Enjoy the free ramune drinks or local ice cream which are free to guests. As they check out, guests also receive a complimentary copy of a book about this enduring ryokan along with the Baumkuchen served at arrival. Not only is Takefue a premier hot spring, it is definitely a ryokan that you will want to visit again.
ACCESS
Shirakawa Gensen Sanso Takefue

5725 Ooaza Manganji, Minami Oguni-machi, Aso-gun, Kumamoto
TEL 0570-064-559