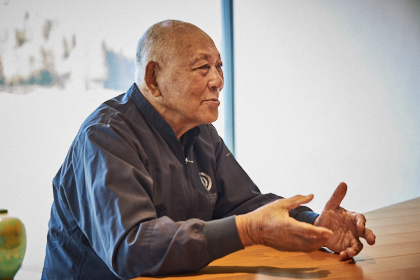 In the past, master brewers would be loaned out to the breweries. They were local farmers who shared their experience and knowledge as sake brewing specialists in the winter. Nowadays, brewery owners and presidents take on this role brewing sake, or a brew master is employed full time by the brewery. There is a legend in this world who is often referred to as the "god of sake brewing" or the "legend master brewer of Noto".
Naohiko Noguchi was born to a family of sake brewers in 1932, in the Noto area of Ishikawa prefecture. He entered the world of sake brewing at the age of 16, training in Shizuoka and Mie. After returning to Ishikawa, he took on sake brewing at various brewers such as "Kikuhime", "Jyokigen Brewery" and "Noguchi Brewery", winning gold for 12 consecutive years at the National Sake competition for a total of 27 occasions. He is considered a legend, and is also known to be responsible for triggering the sake boom in 1970 after he released a special label that was originally created just for the competition. He is also known to have revived a traditional sake brewing method called "yamahai". He is the leader in the world of sake brewing, a recipient of accolades such as "modern artisan" and Yellow Ribbon Award.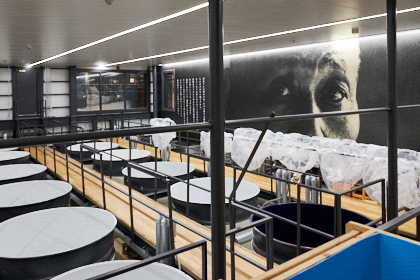 Although Mr. Noguchi initially retired in 2015, he returned to work in 2017 after establishing the Naohiko Noguchi Sake Institute. The institute was established in response to Mr. Noguchi's desire to "brew sake with young people who are pursuing the dream and techniques of sake brewing". True to its name, the institute seeks to pass on the techniques, spirit, and dedication of Mr. Noguchi to the next generation. It is a very new style of sake brewery. There are 8 young staff who work with Mr. Noguchi, monitoring the temperature in the tanks and malt room, following the detailed data Mr. Noguchi kept and using the latest equipment, in hopes of carrying on his spirit. They strive to create sake that has a light and pleasant after taste that spreads out after swallowing, as they envision the smiles of delight on the faces of customers.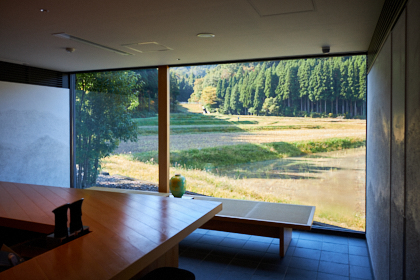 At Naohiko Noguchi Sake Institute, they strive to expand sake culture. There is a gallery adjacent to the brewery that portrays the history and dedication of Mr. Noguchi's sake brewing. There is also a tasting room that was created under the art direction of Ohi Ozaemon the 11th called "Morian". Visitors can experience new ways to enjoy sake as they enjoy the beautiful seasonal scenery. The brewery also holds a pairing event "Komatsu Saketronomy" to entice gourmet enthusiasts from around the world to visit. The event features renowned chefs and is a fusion of "sake" and "gastronomy", one of the creative ways the brewery relays Japanese sake and culture.
ACCESS
Naohiko Noguchi Sake Institute

Wa 1-1 Kanagasomachi, Komatsu-shi, Ishikawa 923-0171