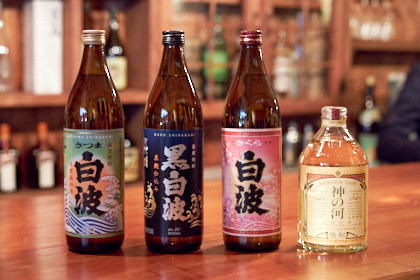 Founded in Makurazaki, Kagoshima in 1936, Satsuma Shuzo has its distillery, bottling plant and beer house in Minami Satsuma. In addition to its signature shochu "Satsuma Shiranami", the distillery produces rice shochu, sparkling alcohol and liqueurs.
"Satsuma Shiranami" is a sweet potato based shochu using the "kogane sengan" variety which is mainly grown for shochu production. It is a traditional and authentic shochu made with the sweet potato and rice malt, using traditional methods that have been passed on through the generations in Satsuma. It has a distinct deep sweetness with the aroma of sweet potatoes, and has grown its nationwide fan base since the first shochu boom of the 70's. The Shiranami line includes a sharp tasting "Kuro Shiranami", an aromatic "Sakura Shiranami" which uses fresh sweet potatoes grown in Minami Satsuma and yellow koji, and "Mugen (eternal) Shiranami" which pursues the full potential of shochu.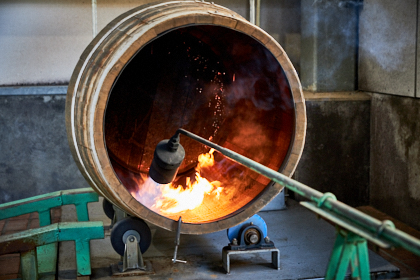 With their motto "bringing a smile to our customers" at the foundation, they have worked together with local growers to create the best sweet potatoes. Using the freshest sweet potatoes, they dedicate themselves to developing rich soil and growing the best malt, as well as proactively introducing the latest technology to create shochu that aligns with consumer expectations.
At the Hinokami Distillery, they produce "Satsuma Shiranami" and the popular "Kami no Kawa", a barley shochu that is stored for an extended period. "Kami no Kawa" is an amber shochu made using 100% Nijo Barley and is stored in white oak barrels for 3 years under strict supervision of barrel craftspeople. The extended fermentation produces a very aromatic shochu with a pleasant sweetness. In order to produce "Kami no Kawa", Satsuma Shuzo is the only shochu distillery with its own barrel making studio, barrel storage and barrel craftspeople who oversee and maintain the barrels. There is a process where barrels are burned to revive them after being used for making western style liquors. This process brings back the smokiness and vanilla like scent in the barrels.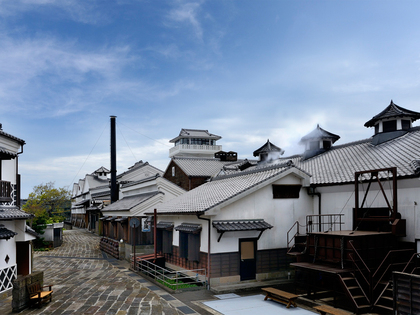 Satsuma Shuzo also boasts "Meiji Kura" which is also known as the observation warehouse. It not only retains the features of the late Meiji era with old equipment on display, but they also continue to make shochu using 100 plus year old urns. Visitors can observe traditional shochu preparation. We encourage you to visit, as there are labels sold exclusively at the distillery.
ACCESS
Satsuma Shuzo

26 Tategami Honmachi, Makurazaki-shi, Kagoshima
TEL 0993-72-1231