Hatcho miso, which originated in Okazaki City, Aichi Prefecture, is a type of soybean miso made from only soybeans and salt. It is an indispensable seasoning for Nagoya dishes such as miso nikomi udon. Hatcho miso has a strong umami taste and does not lose its flavor when heated. Maruya Hatcho Miso, one of the manufacturers of Hatcho miso, is making efforts to preserve Hatcho miso for future generations by maintaining the production process that has been handed down since the Edo period, and by vigorously promoting it overseas.
Hatcho miso was born because of the high temperature and humidity of Aichi Prefecture.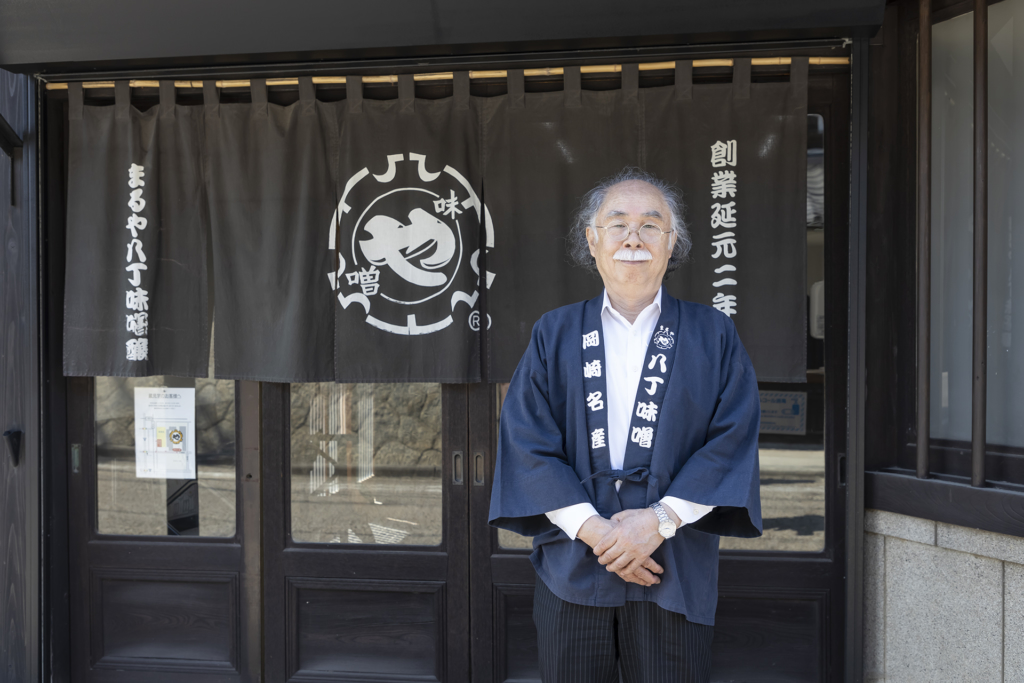 Okazaki City is located in the center of Aichi Prefecture. The Yahagigawa River runs north-south and the Otogawa River runs east-west in the city, providing abundant water sources, and rice paddies are spread out in the city. Because of the hot and humid climate, soybeans have long been grown in the rice paddies along with rice.
Hatcho miso is a product of this region's ability to grow soybeans. It is matured for a long period of time using only soybeans and salt. The production method has not changed since ancient times," said Shintaro Asai, president of Maruya Hatcho Miso. He is one of the people who are making efforts to preserve the taste of Maruya Hatcho Miso, which was founded in 1337 (Engen 2), for future generations.


Started organic with experience from study abroad in Germany.
While studying abroad in Germany in his 20s, Mr. Asai became interested in organic food. This was because he met people there who were trying to popularize Japanese food and who were studying macrobiotics, and was impressed by their discussions and sympathized with their content. At the time, there was little awareness of organic farming in Japan, and no one was interested in it.
At the age of 34, he joined Maruya Hatcho Miso Co. Using his knowledge from Germany, he poured his heart and soul into making Hatcho miso using organically grown soybeans, despite opposition from within the company. Exporting only to overseas, where interest in organic products was already growing, the company obtained certification from the U.S. organic food certification organization OCIA in 1987. The company was also certified by ECOCERT, the European Organic Certification Organization, and Kosher, a Jewish organization with strict food regulations, and already had a great track record when the organic JAS system was established in Japan.
Popularized in Europe along with macrobiotics
Maruya Hatcho Miso began exporting Hatcho miso to the United States in 1968. The following year, the company began exporting to the United Kingdom and other European countries, and in 1971 to Australia and New Zealand. Along with the spread of macrobiotics, Hatcho miso has been accepted by local people, including those who care about their health and those who recognize it as a traditional Japanese food, and is now exported to more than 20 countries around the world, where it is sold mainly at natural food stores. Mr. Asai himself also visits restaurants overseas to propose Hatcho miso. He is looking forward to seeing how they make the most of Hatcho miso as an ingredient.
The taste that only two companies in Okazaki have kept alive.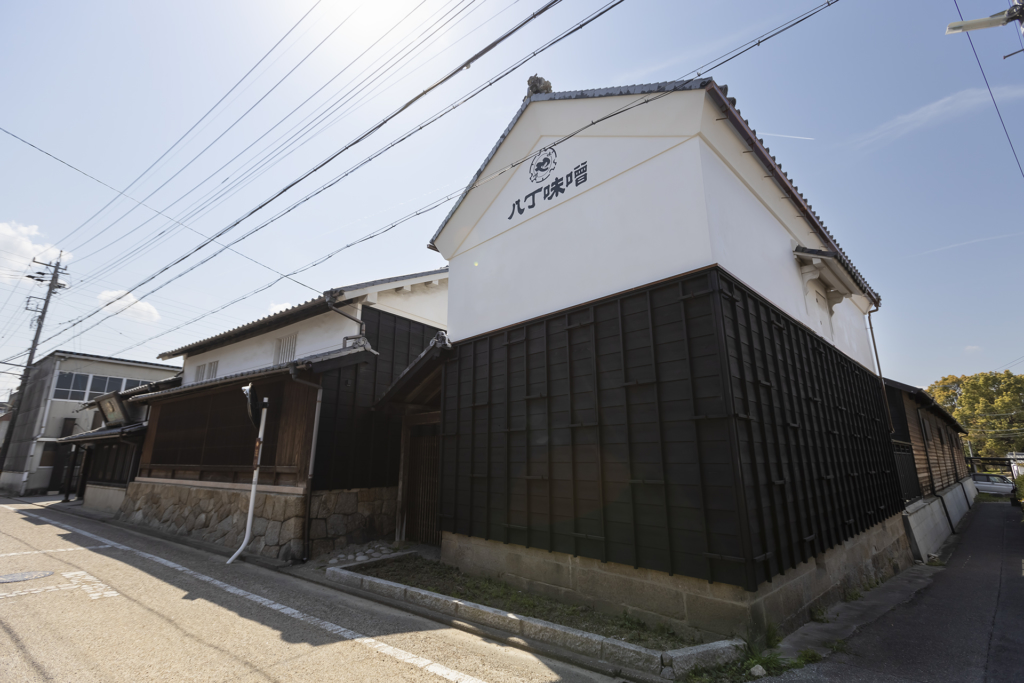 The name "Hatcho Miso" comes from the village of Hatcho (now Hatcho-cho), located 870 meters west of Okazaki Castle, the birthplace of Tokugawa Ieyasu. Facing each other across the old Tokaido Highway, only two companies, Maruya Hatcho Miso and Kakkyu Miso, have been manufacturing the product while maintaining the traditional manufacturing method. They have been good rivals, emphasizing and improving the quality of Hatcho miso through friendly competition.
Maruya Hatcho Miso has been around since 1337
Maruya Hatcho Miso was born when the first generation head of the family, Yajemon Ota, started a brewing business. It is said that the name "Hatcho Miso" was first coined during the Edo period (1603-1868), but the production method has remained virtually unchanged for more than 600 years. We still have a recipe book from the 1700s, and the method described in it has been passed down from generation to generation. I am sure there are more rational methods, but our priority is to continue the process," says Asai.
Made only with soybeans and salt, characterized by its strong umami taste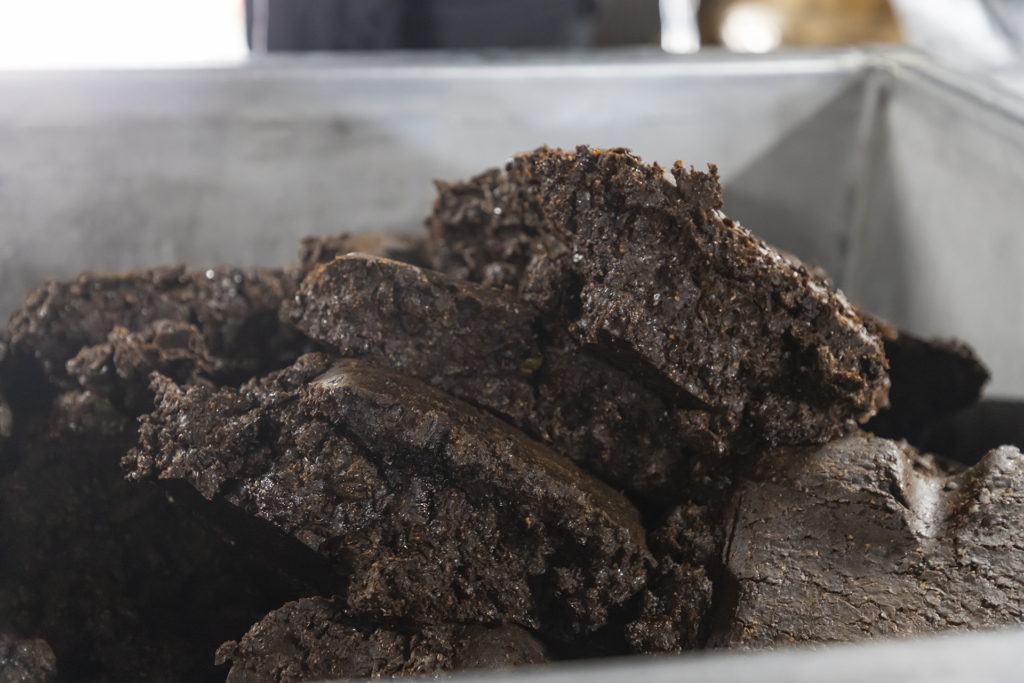 Those who use Hatcho miso for the first time may be surprised by its firmness. This means that the water content in the miso is extremely low, which means that the flavor of the soybeans is concentrated. The soybeans are "Fukuyutaka" produced in Nishi Mikawa, Aichi Prefecture, and the miso is brewed with sun-dried salt and soy koji. The maturation period is "two summers and two winters," or more than two years.
Incidentally, "rice miso," the most widely used miso in Japan, is made with soybeans and rice koji, while "barley miso," produced mainly in the Kyushu, Shikoku, and Chugoku regions, is made with soybeans and barley koji. Considering that the standard maturation period for miso made with these koji is six months, and even naturally brewed miso that is not heated is said to mature for about one year, the length of maturation for Hatcho miso is surprising. Basically, ripening is a period during which the sugars in rice, barley, and other ingredients are broken down and converted into flavor and sweetness, but because the soy koji used in Hatcho miso contains less sugar than rice koji, it takes longer for the microorganisms to break down the sugar. The reason for continuing to use soybean koji, however, is its high preservability and rich flavor. The preservation property is enhanced by slow and careful preparation, and the umami component derived from soybeans is also strengthened.
Masonry for long-term aging and quality retention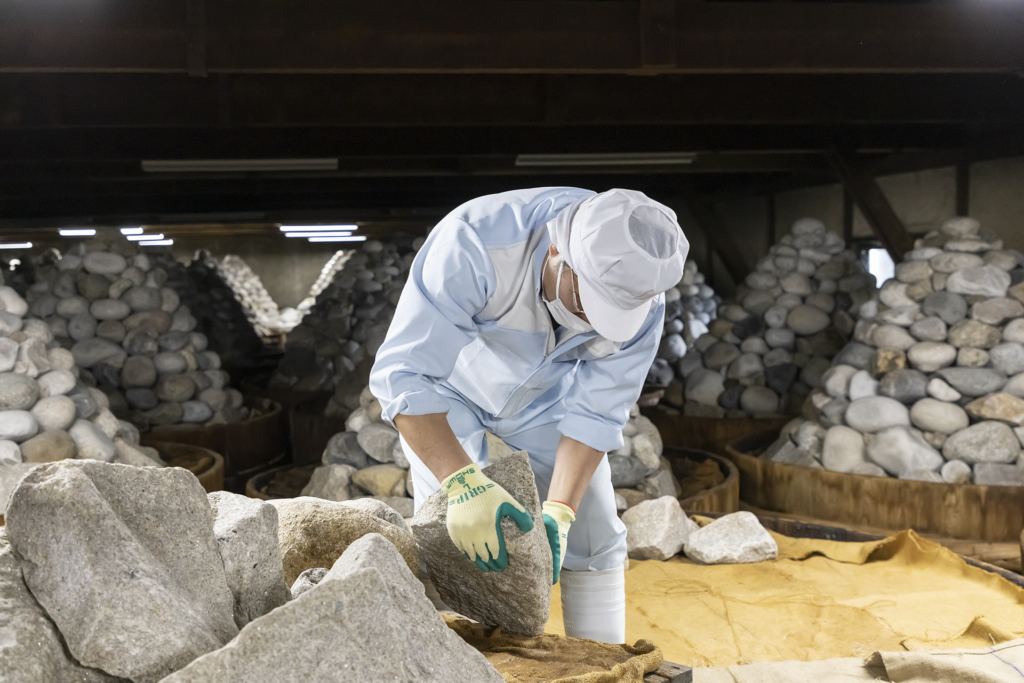 The long aging process is made possible by "masonry" and large-sized "miso balls" made by stone masonry workers.
The stones are stacked one by one by skilled craftsmen, taking into account the size and shape of the stones. Once the miso is matured, it is never moved, so if the load is not evenly distributed throughout the miso, there will be uneven maturation within the miso barrels. It is said that it takes 10 years to become a full-fledged craftsman, as each stone must be supported and balanced on each other, and the stones must not fall apart.
A miso ball is made by rounding steamed soybeans into a ball shape. In Hatcho miso production, koji mold is grown directly on the surface of the miso ball. The larger the ball, the smaller the amount of koji per soybean, which slows down the ripening process. During the long ripening period, the various yeasts and lactic acid bacteria that live in the brewery penetrate into the miso ball, giving it a unique flavor called "kura-habit.
How to make the most of miso that does not lose its flavor when heated
Hatcho miso is noted for its ability to retain its flavor even when heated. This is the reason why many of Aichi Prefecture's gourmet specialties, such as miso nikomi udon and dote-ni, are stewed dishes. Normally, people say that once miso is added, it should not be boiled, but in the case of Hatcho miso, the miso soup is boiled as well," says Asai. The heat brings to life the richness of the miso, as well as its unique flavor with a hint of sourness, astringency, and bitterness.

Not to boom is to leave.
When we asked Mr. Asai, who has been preserving the traditional manufacturing method, about his future goals, he said, "To preserve the miso brewery and Hatcho miso, which takes more than two years to complete, cannot be produced in increasing or decreasing quantities just because of a temporary boom. In order to preserve the traditional method of miso production, in 2010, the company purchased new wooden vats for the first time in 78 years. It is a "Rokushaku Oke" that can hold approximately 6,000 kg of miso. The company has asked Japan's only wooden vat craftsman to make the vats ahead of schedule. Hatcho miso is made in wooden vats, as our ancestors told us to make miso in wooden vats. In order to preserve the traditional method of making Hatcho miso, we need people to support us, such as the wooden vat craftsmen and the farmers who produce the soybeans. I want to take good care of those people and keep the tradition alive," Asai says emphatically.
ACCESS
Maruya Hatcho Miso Co.

52 Hatcho-cho, Okazaki-shi, Aichi, Japan
TEL 0564-22-0222