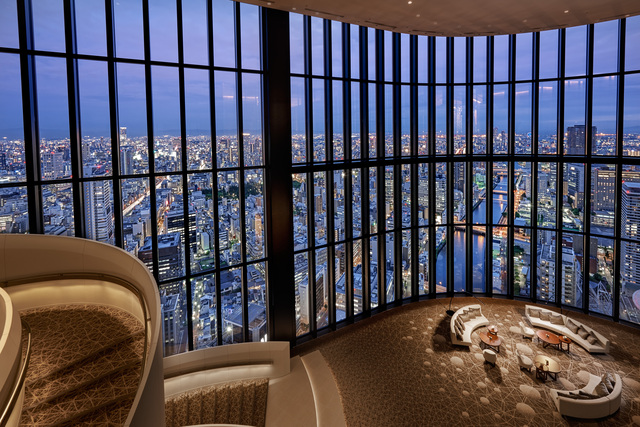 Conrad Osaka is the latest in smart luxury hotels located in one of the landmarks of Osaka, Nakanoshima Festival Tower West. Targeting travelers who make the most of both work and play, the hotel boasts a fusion of contemporary and Japanese design. Located 200 meters above ground level, the hotel offers panoramic views of the city with spacious guest rooms and 4 restaurants, a bar and lounge that live up to Osaka's reputation for being the "Kitchen of the Nation". The world renowned Conrad quality is also apparent in the spa, pool, fitness club and wedding chapel.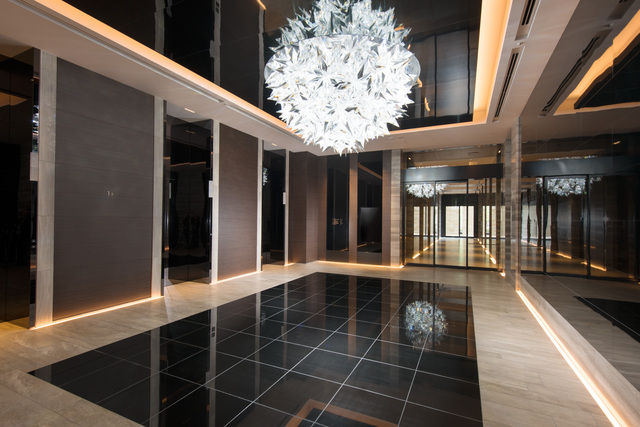 Nakanoshima is abundant with clear waters and greenery, and has a history of being the center of political, financial, and cultural development. A narrow piece of land between Dojima River and Tosabori River, many warehouses served as temporary storage for rice and other grains during the Edo period before they were shipped out around the nation. During the Meiji era, cultural buildings such as the Osaka City Central Public Hall and Osaka City Nakanoshima Library were added, making it a center of cultural activity. The functionality of the area was further enhanced with the opening of Osaka University's Nakanoshima Center (currently closed) and the opening of the new Nakanoshima train line.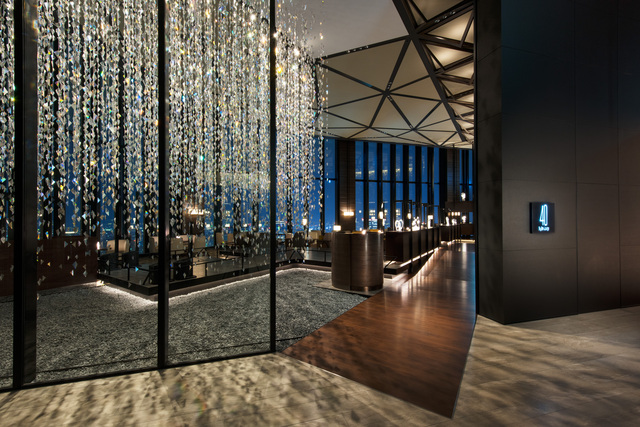 The main feature of Conrad Osaka is undoubtedly the dynamic panoramic view. In the lounge on the 38th floor, there is a winding staircase and wide open stairwell. Floor to ceiling windows offer a view of the city as well as the ocean and even the mountains in the background. You can enjoy the expansive view from almost anywhere in the hotel, from the guest rooms, restaurants, banquet rooms, spa & fitness, indoor pool and even the meeting rooms, allowing you to get away from the daily routine. Enjoy a relaxing moment with a view of the night skies and city at the "40 Sky Bar and Lounge".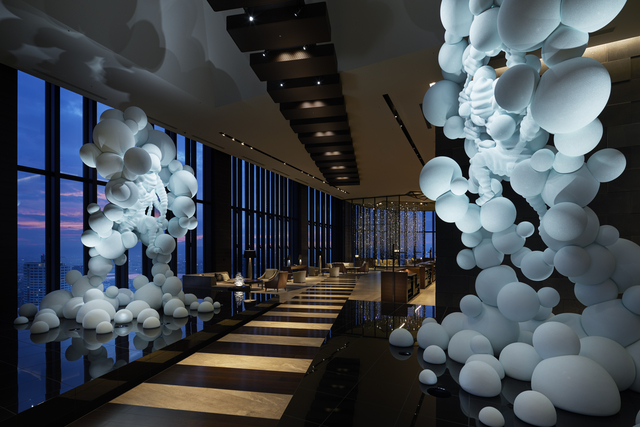 A distinguishing feature of the hotel are the displays of art pieces by artists from around the world with a focus on local artists. 《Fu / Rai》 is a large piece measuring about 5 meters by sculptor Kohei Nawa. Using micro beads to express the gods of wind and thunder, the pieces change with the light and can be enjoyed over and over again. Each guest room, chapel, atrium and banquet rooms also boast its own artwork, making Conrad Osaka a delight for art lovers.
ACCESS
Conrad Osaka

3-2-4 Nakanoshima, Kita-ku, Osaka-shi, Osaka 530-0005
TEL 06-6222-0111