Tokoname City, Aichi Prefecture, is a major pottery production area. The Tokoname clay is said to "mellow the taste of tea" and teapots made here are still widely loved. Ceramic artist Tetsuya Osawa uses a unique Tokoname glaze called 'chara' to produce tableware and other items with a blurred texture. His craftsmanship was only possible in Tokoname.
The spirit of tool-making lives on in the pottery town of Tokoname, Aichi Prefecture.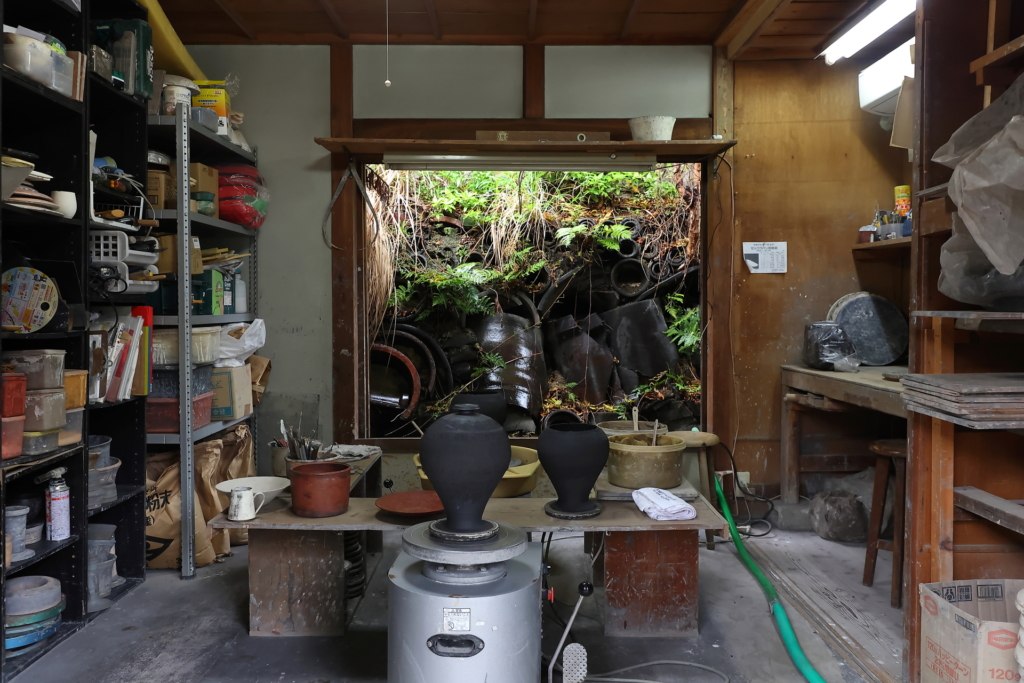 Tokoname City, located on the west coast of the Chita Peninsula in Aichi Prefecture, is one of the 'Six Old Kilns of Japan' and its pottery production dates back to the end of the Heian period. From plates and tableware to large jars and pots for storage, the city has produced pottery that has been a part of people's daily lives. When we visited the studio of Tetsuya Osawa, a potter active in Tokoname, we found countless large jars that had been badly burned lying in the backyard, overlapping each other. These jars had been placed here long before Mr Osawa settled in Tokoname. Looking at the piles of jars, Mr Osawa says, "The jars are not half as big as they used to be. There are traces of the people who made them all over the town. You can clearly feel the power that Tokoname has.
Mr Osawa's journey from Tajimi to Tokoname.
Ms Osawa is from Tajimi City, Gifu Prefecture, known as the main production centre of Mino ware. In Tajimi primary schools, there is always a kiln, and we touch the clay during class time. As she says, "I found it interesting", Osawa has been familiar with ceramics since childhood. When she graduated from junior high school, she chose to become a potter without hesitation. I wanted to do something fun in life. Music or art. Among other things, I wanted to do something tangible with pottery. After that, he studied ceramics intensively at high school and university, and came to Tokoname under the guidance of Masamichi Yoshikawa, who later became his teacher.
Why didn't he return to his home town of Tajimi, which is also a pottery production area? Mr Osawa says: "Now I understand the greatness and interest of Tajimi. At the time I thought, 'There's nothing but pottery, it's boring'. I wanted to leave Tajimi.
Why Tokoname clay is ideal for teapots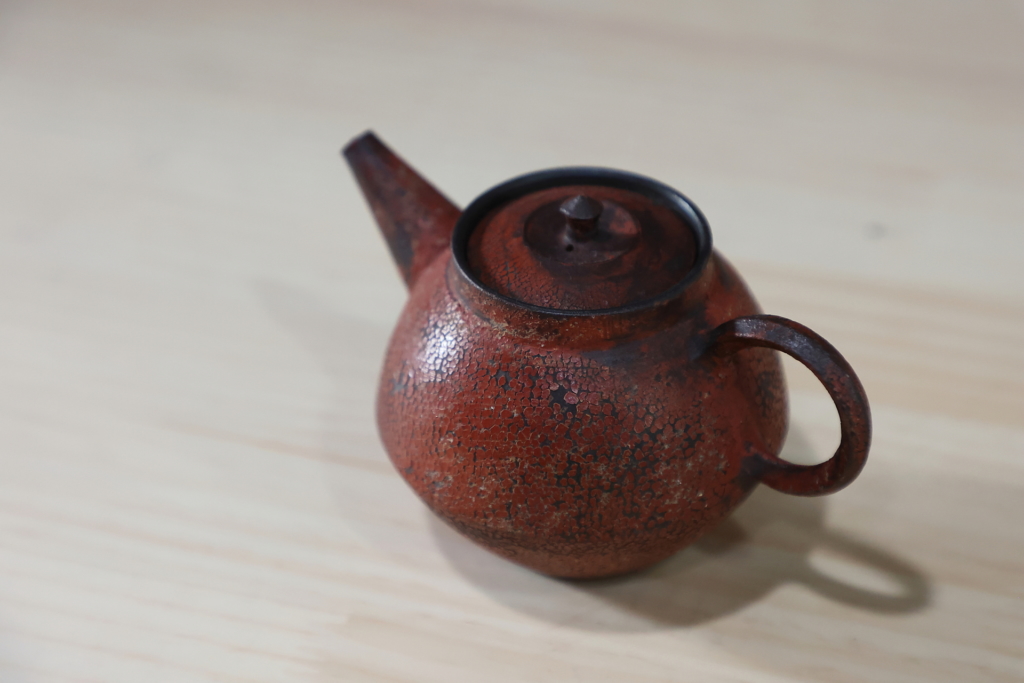 Tokoname has a long history as a pottery production area. Among these, the kyusu (teapot) is said to be the most representative of Tokoname ware. It was only in the late Edo period (1603-1868) that teapots began to be made, a phenomenon that occurred only in the last 200 years or so. Tokoname clay 'shudo', which contains a lot of iron and is highly baked, was ideal for making kyusu. Furthermore, the iron oxide reacts with the tannin in tea to mellow its taste, which is why it has been favoured by tea masters. Another reason for the popularity of the kyusu is the high level of skill of the craftsmen who have achieved the hermetic sealing of the lid, which is necessary for steeping the tea leaves and maintaining the temperature of the tea.
If you look closely at the kyusu made by Mr Osawa, you will see that the red clay has peeled off in places and black clay is peeping through. This is because the texture is created by applying a coat of brown make-up clay on top of the black base, followed by a coat of red make-up clay on top of that to create three layers, and then roughly scraping off the clay. It may be easier to understand if you imagine Negoro-nuri lacquerware. Osawa says: "I wanted to combine the influence of contemporary craft artists and the quality of Tokoname kyusu in my own work. We take a closer look at his handiwork.
Getting to originality.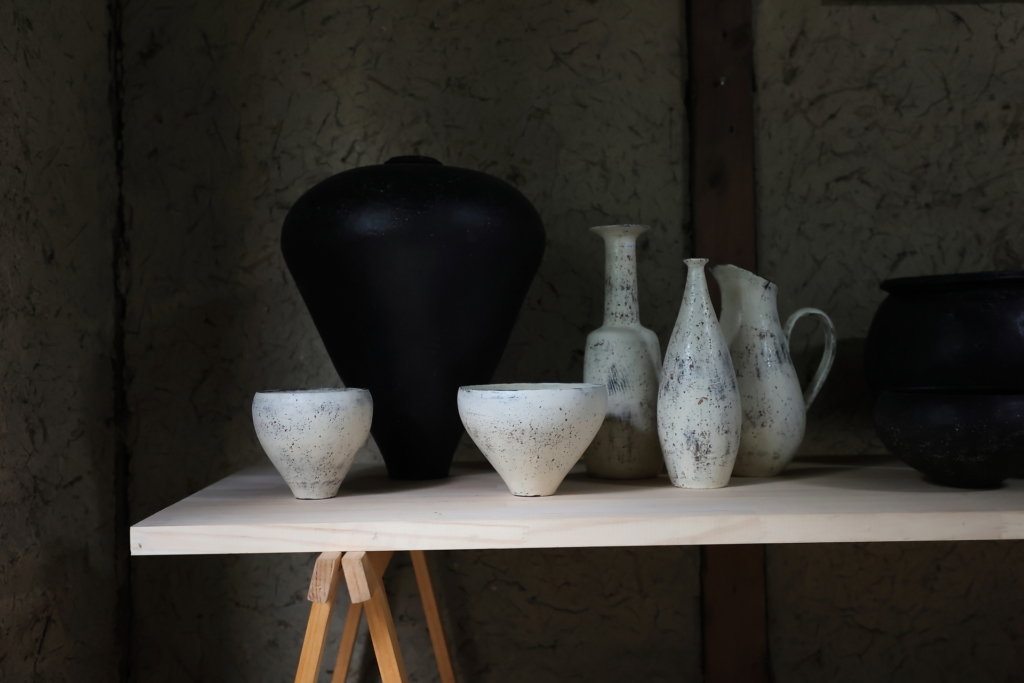 Several layers of different-coloured decorative clay are layered on top of the base, and the glazed and fired vessels are then polished with a file to expose the underlying layers of decorative clay. The most distinctive feature of Osawa's pieces made in this way is their blurred texture. The colouring and unevenness are unique. Ms Osawa says of her work, "I imagine in my mind the texture of something in an old house or a Buddhist statue in a temple". On the other hand, she also revealed the difficulties she faced in developing this style, saying, "I had a lot of trouble figuring out how to create my own texture and how to make it work with just the simple shape of a vessel.
Glazes that fulfil the 'shine' of kyusu, loved by tea masters.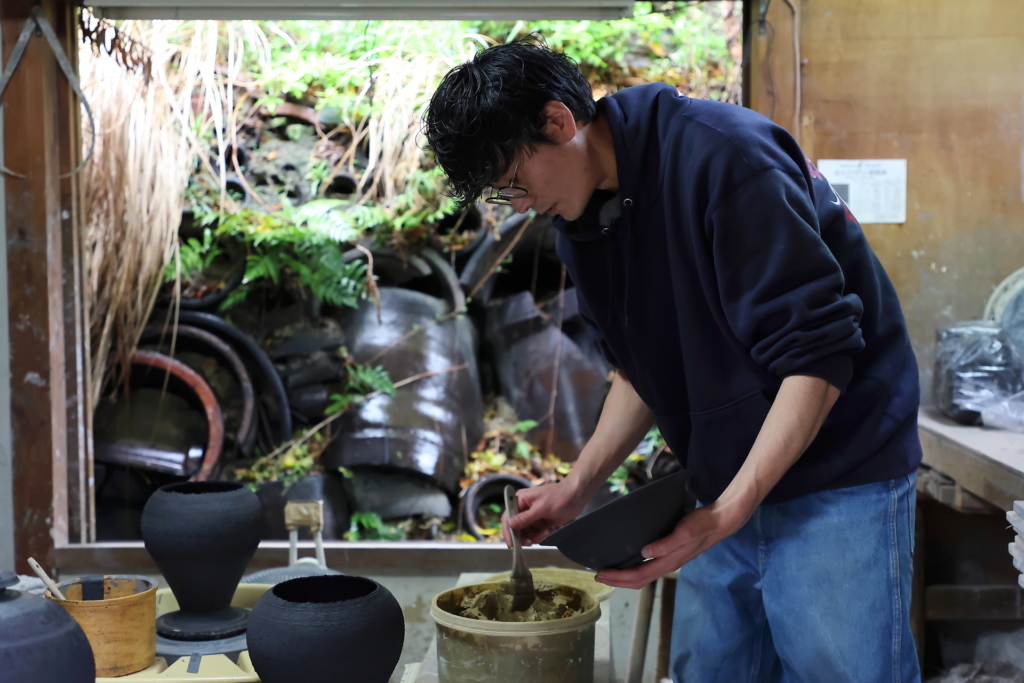 In the midst of this struggle, he came across a unique Tokoname glaze called "chara", which is indispensable for kyusu production. Unlike glassy glazes, challah is a glaze which, when fired, gives off a lacquer-like lustre while retaining the texture of the clay, and has long been familiar to the people of Tokoname, who sought the 'shine' that gives kyusu a luxurious feel. The glaze has long been popular with the people of Tokoname, who sought the 'shine' that gives kyusu its luxurious feel. But if it is made of clay, it is too powdery. So I tried using challah, and the texture calmed down unbelievably.
Mr Osawa now uses three different types of challah to express black, white and red in his work. He has come across chara only because he has continued to make ceramics in Tokoname. The exquisite sheen and lacquer-like texture are the originality of Osawa's work.
Presence of his wife, Hikaru Masuda, also a potter.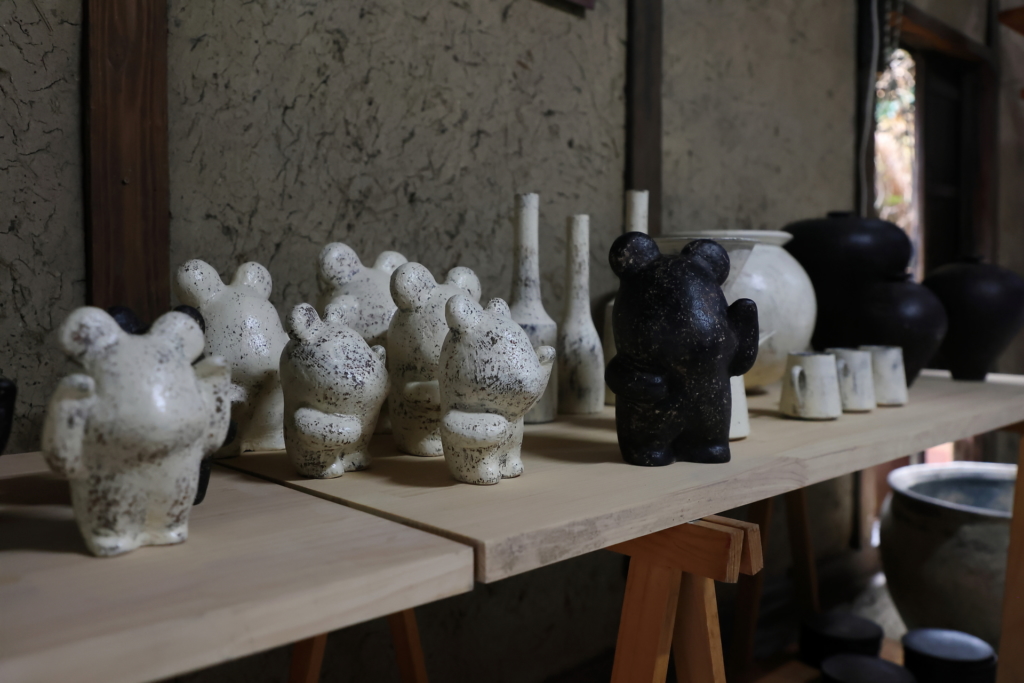 In the studio, where plates, mugs and other objects are arranged in rows, a bear objet d'art has an unusual presence. The bear objet d'art was heavily influenced by Mr Osawa's wife, ceramicist Hikaru Masuda. Ms Masuda creates free and soft-feeling ceramic works with motifs of bears and other animals, kokeshi dolls and daruma dolls, and is such a popular artist that she held a solo exhibition at the Roppongi Hills A/D Gallery in Tokyo.
Having always had a complex about "making things while controlling the form", Osawa began to admire the way Masuda creates freeform shapes. In the process, he sought something that he could create more freely, rather than restraining the clay to the rotation of the potter's wheel, and this bear object is what he came up with. If you look closely, you can see that each one has a slightly different shape. Perhaps they embody the ideal of freedom that Osawa sought. Eventually, I want to make something that can be enjoyed even when it comes in different sizes," says Osawa.
Tools are used by people.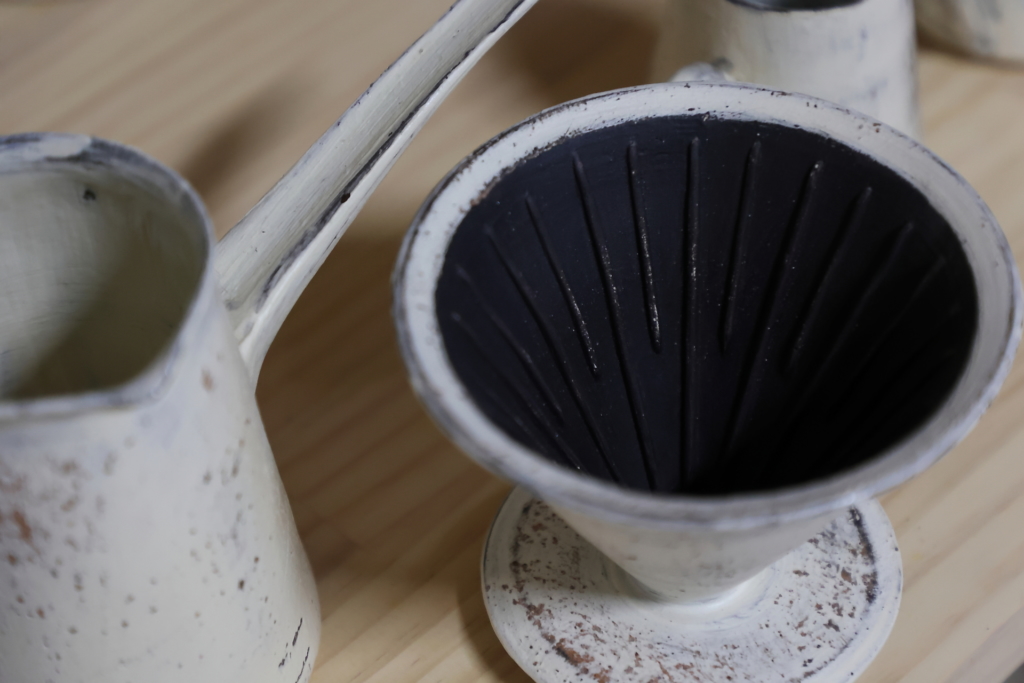 'I think the history of tools is great. Tools become even better through the relationship between the people who make them and the people who use them," says Osawa. For example, this coffee dripper was made by Mr Osawa for an acquaintance who runs a coffee shop in Aichi Prefecture. Mr Osawa held a series of interviews to find out "what kind of coffee utensils he wanted to use", and made detailed adjustments to the number and depth of the grooves.
Mr Osawa says: "As with the kyusu, we are most happy to receive feedback from people who actually use it. It is interesting to brush up based on feedback". The coffee drippers are also in the hands of café owners in Tokyo, and improvements are made based on their feedback. A relationship between the maker and the user. The tools that Mr Osawa makes continue to evolve in relation to the people who use them.
Following the master's back and taking on the world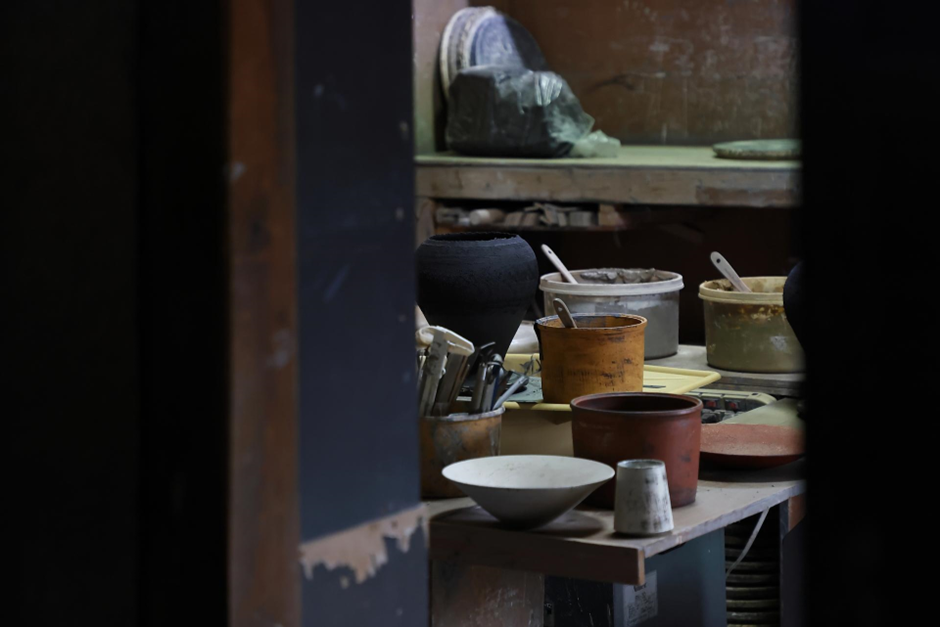 Mr Osawa trained under ceramic artist Masamichi Furukawa while still a university student. Influenced by Furukawa, who has been active abroad in New York, London and Paris, she is now looking to expand into overseas markets. 'Going there, talking to local people, meeting new people… Ideally, I would like to come back to my own place and dream of new dreams, while being stimulated", she says, her voice cracking. Osawa, who says she has always been "not good at sales and marketing", has been able to connect with galleries and expand her sales channels by exhibiting at craft markets and pottery fairs. She is currently using Instagram to contact galleries in Japan and abroad, and plans to hold a solo exhibition with Masuda in Australia in November 2023. 'Of course domestic is important, but I would like to have more opportunities to go abroad with my work,' she said of her dream.
Tokoname has a long history of making tools for people to use.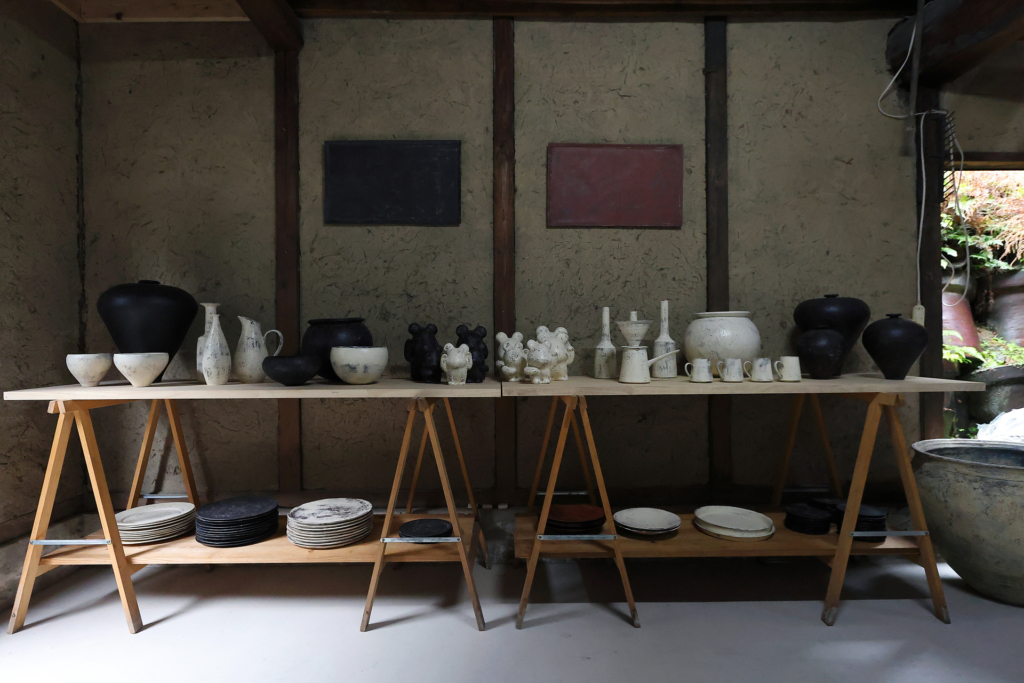 Osawa's handiwork is always with the user in mind. 'The work I make gives me new opportunities. I enjoy making things that are different from what I make now, and imagining what kind of encounters and stimulation there will be between the work I make and the people who use it". The works created by Osawa, which are the result of the combination of a sensibility honed through Tokoname's long history of tool production and a charisma that she was only able to encounter because of Tokoname, carry everything Tokoname has to offer.
ACCESS
Tetsuya Osawa

Tokoname City, Aichi Prefecture, Japan