In 2022, "Rice Master Minori Garden" won gold medals at the "International Rice and Taste Analysis Competition" and "Japan's No.1 Rice Contest in Shizuoka" in succession at the largest rice competition in Japan. The garden is located in the mountainous area of Shinjo City, Yamagata Prefecture, a city blessed with nature, and grows delicious rice that is recognized around the world through "natural cultivation" that does not use pesticides, chemical fertilizers, or organic fertilizers.
Shinjo City, Yamagata Prefecture, is blessed with a natural environment ideal for rice cultivation.
Shinjo City in Yamagata Prefecture is located in the northeastern part of the prefecture and is surrounded by mountains such as Mount Tsukiyama and Mount Kamimuro, one of the heaviest snowfall areas in Japan. The melt water from the mountains is rich in minerals and has long been known for its ability to produce delicious rice. The climate is favorable for the rice plants, which are exposed to the sun during the day to produce flavorful ingredients, which are then locked in during the cooler nights and mornings.
The Igarashi family is a rice farmer who owns about 15 hectares of rice paddies mainly in the mountains of Shinjo City at an elevation of 150 meters. Rice farming has been the family's occupation for generations since the Kansei era of the Edo period (1603-1868), and now the family, led by Shigeo Igarashi, the eighth generation of the family, is working together to farm.
Falling in love with the delicious taste of rice, Igarashi became a farmer with a single-minded determination.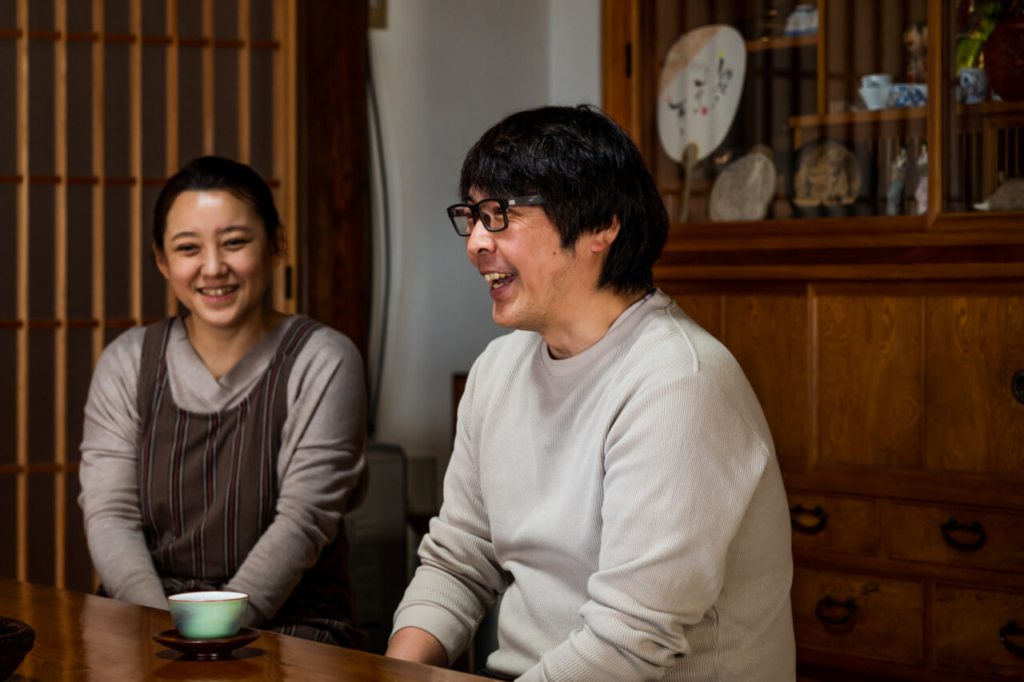 Mr. Narusei was born in Omagari City (now Daisen City) in Akita Prefecture, but moved to Yamagata Prefecture when he entered university. After graduation, he was working as a cram school teacher when he met his wife, Eriko, who became his son-in-law.
Although Mr. Nario was not a farmer, his family ran a catering restaurant, so he was accustomed to eating good rice. However, when he first tasted the Igarashi family's rice, he was shocked at how delicious it was. Hearing his father-in-law's words, "I am thinking of leaving the farm in my generation because there is no one to succeed me," Narusei said, "It would be a waste to quit the farm when we can produce such delicious rice. He decided to take over the farm and pass on the delicious taste of rice to the next generation.
Happiness of Living in the Natural Cycle of Human Nature
The Igarashi family's rice cultivation style has been conventional, using pesticides and chemical fertilizers for generations. Having no farming experience, Mr. Narusei spent a year learning from his father-in-law how to use farm machinery and how to do the work from scratch. He felt that farming was his true calling, as it suited his personality in many ways, including his love of operating machinery, the freedom to spend time on his own, and his ability to learn and make improvements as he went along. In the mountainous rice paddies where he works, he can hear the sounds of animals and feel the changing seasons as the wind blows through the fields. He wakes up early in the morning before 5:00 a.m. to begin his work and finishes it at dusk. The feeling of living in such a natural cycle is a fresh and happy time for Mr. Narusei.
Carving Out Sales Channels with His Own Hands
However, it is not all happiness. After taking over the Igarashi family business, Narusei first became aware of the tight business situation. He thought the business had been in the family for generations and was doing well, but in reality, it was in dire straits and needed immediate improvement.
If we don't make more money, we won't be able to make a living," he said. So, instead of relying on vendors to sell our products, we should develop our own sales channels. To help visitors understand what kind of products they were selling, they named themselves "Rice Master Minori Garden" and sold the rice directly to the visitors. As a result, the rice was well received and sold well. They were able to hear directly from consumers and felt a great response to their efforts to develop their own sales channels.
Natural farming started with a desire to feed young children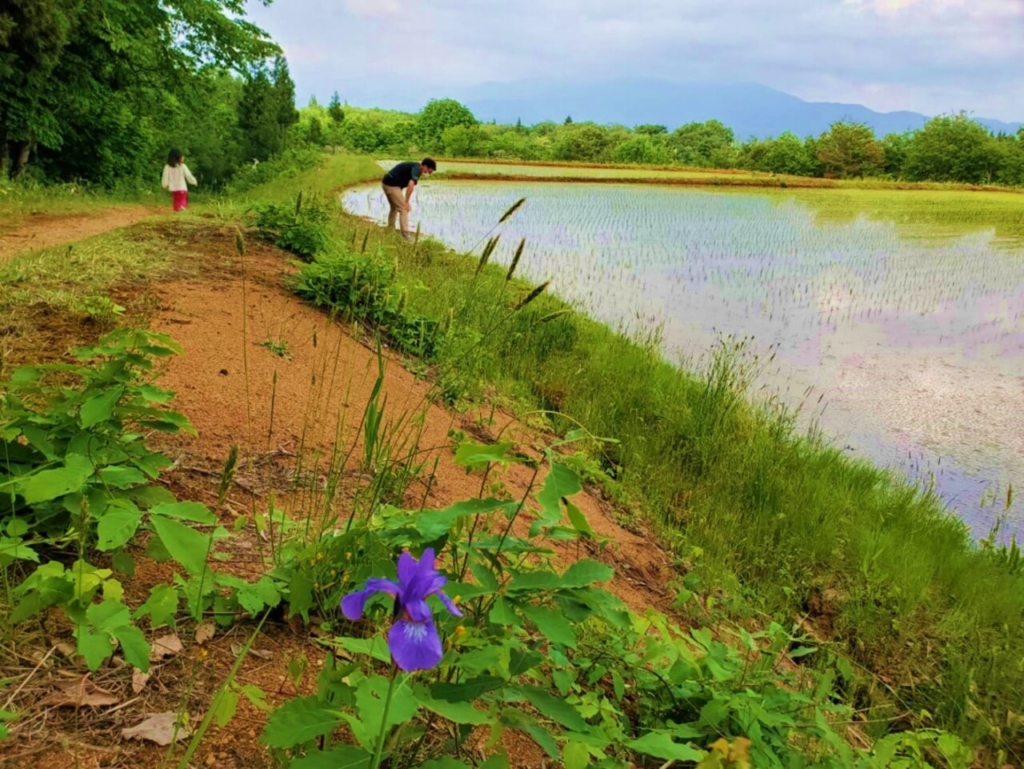 A diligent learner who used to teach at a cram school, Mr. Narusei participated in various study groups on agriculture. In addition to deepening his learning, he expanded his connections with other farmers. Then a major turning point came. He met a farmer who was growing his produce naturally.
At the time, Mr. and Mrs. Igarashi were raising their children and wanted to feed them food that was as safe and secure as possible. Therefore, natural farming, which does not use pesticides and is healthy for the farmer, seemed to be the best way to grow rice for both consumers and farmers.
Conventional cultivation generally uses pesticides and fertilizers to improve the taste of rice and prevent disease, but in natural cultivation, crops are grown by natural forces alone, without the use of pesticides or fertilizers. Easier said than done, but growing rice without the use of pesticides and fertilizers developed for good rice cultivation has never been easy.
Of course, they could not suddenly go all out and grow everything naturally, so they tried growing the Yamagata variety "Haenuki" naturally in a small 10-area rice field, which is about the size of five tennis courts. However, the Haenuki, which is originally short in stature, did not grow fully in natural cultivation, and the ears fell off when harvesting with a combine harvester, so they could not even harvest the crop. The next year, they tried again with Koshihikari, which is taller and tastier.
Carefully dealing with the hard work of weeding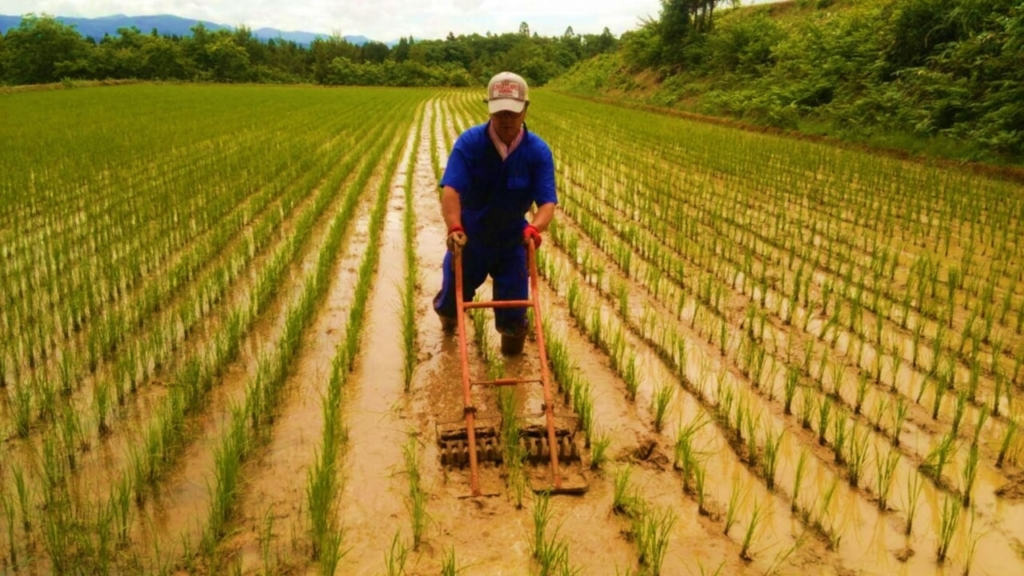 Using a hand-pushed weeder, the farmers carefully weed the rice paddies from top to bottom.
However, since they do not use herbicides in their natural cultivation, they are faced with the problem of how to get rid of the weeds that are growing thick and fast.
His father-in-law, who was a man who never complained about the policy and allowed him to do as he pleased, thought it was fine to report the start of natural farming after the fact, but even he was shocked when he saw the overgrown paddy fields.
Even so, Mr. and Mrs. Igarashi did their best to meet the expectations of their father-in-law, who had understood their desire to continue natural cultivation. For example, they use a hand-pushed weeder to weed the roots of the rice plants so as not to damage them. It is hard work to stir the soil with one's feet so that the soil can be oxygenated. The farm started with 10 hectares of rice paddies and gradually expanded to 1.2 hectares, an area about one-fourth the size of the Tokyo Dome, as his techniques improved. However, weeding a paddy field of that size takes 24 to 36 hours per weeding operation. This is done three times a season, and then the remaining weeds are hand-picked one by one. Compared to conventional cultivation, weeding is by far the hardest work, as it requires careful management of water volume to protect the rice plants from heat and cold.
Challenge to a Nationwide Competition
After years of natural cultivation, Minori Garden was presented with an opportunity. The president of the Association of Rice and Food Tasters visited Shinjo City to give a lecture. He measured the taste of Minori Garden's "naturally grown Koshihikari" and found that it had a taste value of more than 70, which is well above the average. Generally, rice with a taste value of 70 or higher is considered tasty enough, but Minori Garden's rice had a taste value of 85 or higher. Immediately, we were advised to enter the rice in the "International Rice and Taste Analysis Competition," sponsored by the Association. They immediately entered both conventionally grown rice and naturally grown rice in the competition and found that the naturally grown rice had by far the highest taste score, which made them realize the great potential of natural cultivation. The first year they could not even pass the first round of judging, but since then they have worked hard to produce high quality rice every year, and as a result, the eating quality of Minori Garden's naturally grown Koshihikari rice is now above 90.
Three varieties of rice won gold medals in the 10th year.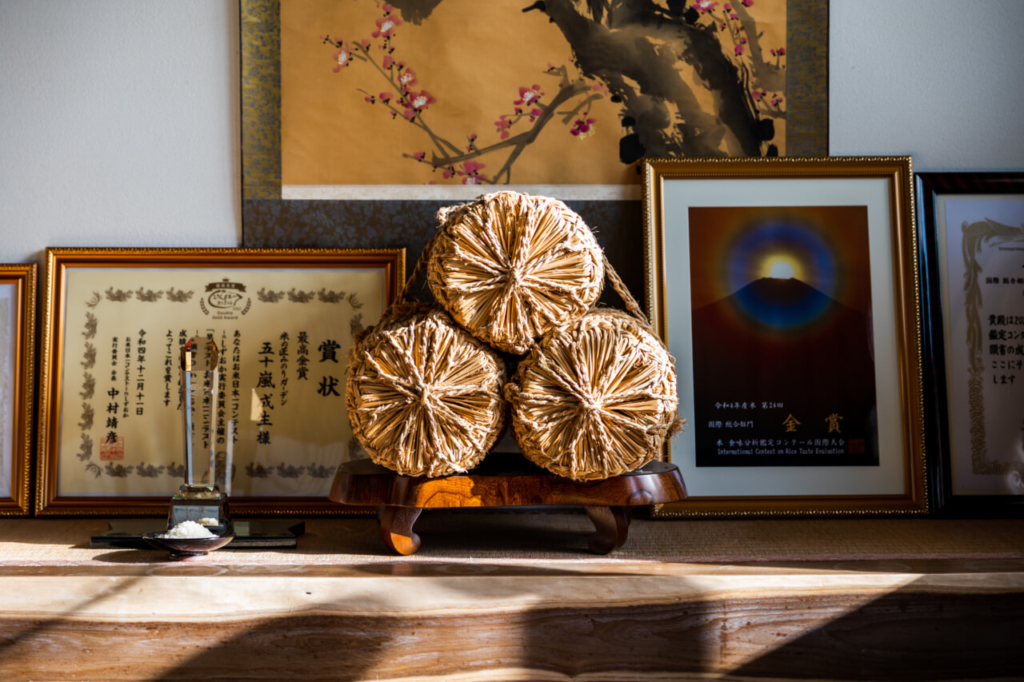 Finally, in the 10th year of natural cultivation, he won a gold medal at the "International Rice and Taste Analysis Contest. After that, with the encouragement of others, he entered the "Japan's No.1 Rice Contest in Shizuoka". Three varieties of rice, Tsuyahime, Koshihikari, and Yudai 21, won gold medals. He was also certified as "the world's best rice ingredient for Toyo Rice," a distinction given to only a handful of the gold award winners, and this was the beginning of his becoming a nationally known rice farmer.
We want to increase the number of young people who want to become farmers.
Minori Garden's rice has the power to bring smiles to the faces of those who eat it, thanks to its gloss, aroma, and taste after cooking. This is the result of Mr. Narusei's tireless efforts. He exchanges information with other natural farmers across the country to hone his techniques, and continues his steady work of careful weeding and homegrown seeds, which results in a delicious taste that increases year by year. This is reflected in the taste value, which has led to this wonderful award. Mr. Narusei's next goal is to win the Diamond Medal in the International Rice Taste Analysis Competition. The Diamond Medal is awarded to growers who have won five or more gold medals and three consecutive gold medals in the overall category at this competition, and is a sign that they are "the best rice growers. I hope that this award will encourage more young people to aspire to become farmers. I would like to convey the charm of agriculture with my own backside," says Narusei. He will continue to improve his cultivation techniques to brighten the future of the agricultural industry.
ACCESS
Rice Artisan Minori Garden

Tokamachi, Shinjo City, Yamagata Prefecture
TEL 080-6057-8285