Progressive design in step with the times, fully utilizing high quality materials

Paulownia chests were once manufactured nationwide, but now it is mainly produced in Kamo and its surrounding region. Kamo became the main producing region because of the abundance of material paulownia trees in the mountains surrounding the basin. In addition, Kamo River played an important role in the transportation of people and goods in the area in the old days. Shigeno Tansu-ten manufactures highest quality "Kamo Kiri-tansu," not only the traditional "kiri-tansu" but also children's toys and living ware such as trays are made. They have been in business for over 200 years, preserving tradition at the same time evolving with the change of times. They aspire to show the wonderful Japanese techniques to the world by actively participating in WA-Qu Exhibition and Salone del Mobile Milano since 2003,
"Kamo kiri-tansu" – Traditional culture of paulownia country

Paulownia chests absorbs moisture and expands to shut out the damp air from entering the interior of the chest. When the air is dry, the wood will shrink thereby allowing the moisture to escape and keep the humidity inside the chest constant and protect the stored clothes. Paulownia wood is an ideal material for humid Japanese climate. Paulownia wood's main feature, being able to absorb and ventilate moisture, does not deteriorate with age. Sometimes a drawer appear to be pushed open by air when you close another drawer. This just shows how airtight the paulownia chests are.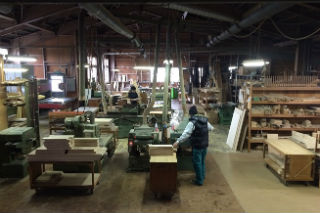 Craftsman's traditional techniques subtly stands out
After the chests are assembled, it is painted and dried several times before the surface is shaven with planes. The surface of a chest is beautifully shaven. If it is not finished smoothly, the finishing coat cannot be applied evenly. Finishing process with a plane is an essential step in completing paulownia chests. One needs more strength than it seems in the process. . It is not just about pulling the plane but it is important where the strength is applied. The surface of the chest is beautifully finished as Tetsuo Tsubotani the shop foreman and also a designated Traditional Craftsman apply the finishing plane-work on the chest. Paulownia wood is light and strong. When the wood is completely dried, the shrinkage is limited to a minimum and it does not warp. making it possible to maintain its beauty for many years. The features of paulownia wood and craftsmen's skills combined bring out the ultimate beauty in "Kamo" paulownia chests.
ACCESS
Shigeno Tansu-ten Y.K.

30-1 Shinden, Noharagasaki, Tagamicho, Minamikanbara -gun, Niigata